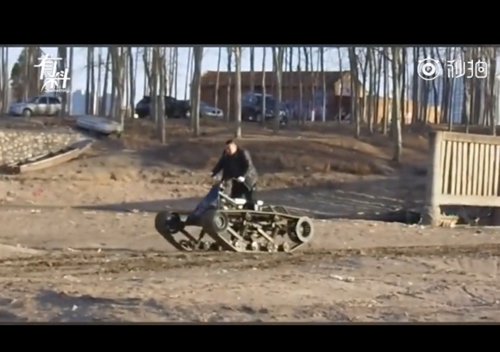 Shi Guangli drives one of his amphibious ATV through the mud of Langfang, North China's Hebei Province. (Screenshot photo)
A man on the Beijing outskirts has amassed a small army of fans for building a collection of tank-like vehicles.
Video shows Shi Guangli driving one of his amphibious ATVs through the mud of Langfang, Hebei Province. Another clip shows Shi, 46, driving around in a toy-like army tank replica.
An employee at a motorized vehicle manufacturer, Shi spent five years building his trio of treaded vehicles, media reported Monday.
"I love traveling, especially in the desert and wilderness, or through swamps where cars couldn't get through," Shi said.
While not street legal, Shi explained that his ATVs could function as emergency vehicles.
"When there's snow and ice, it can get to the scene right away," said Shi, adding that he hopes to develop the vehicles for the mass market.
His designs won praise on social media. However, some questioned their safety. "I think there are some safety flaws, such as a lack of roll cage," commented one netizen.