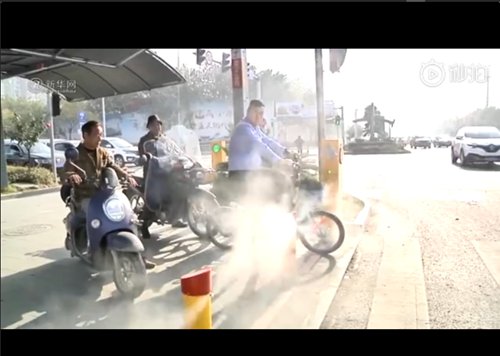 Water spraying devices are installed at an intersection in Jinzhou, Cental China's Hubei Province. (Source/Xinhua)
Water spraying devices were recently installed at an intersection in Jinzhou, Hubei Province that aims to prevent pedestrians from crossing on red.
The system consists of small, knee-height poles with nozzles affixed to them at pedestrian crossings. When a person attempts to cross during a red light, nozzles spray a heavy mist of water along the curb, forming a kind of water gate, video shows.
"It's a very good system, very good. It helps pedestrian cross the road safely," a pedestrian said.
"The spray won't hurt me but it is a reminder that I should pay attention to traffic rules," said another.
However, that's not to say all the kinks are worked out. It once spayed water although the light had already turned green, video showed.
"It works relatively well to keep jaywalkers in line," a police officer said.