Following the enrollment of the handsome Gugu, another goose has recently been admitted to Shanghai Maritime University, and this time it's a girl, Xinhua news agency reported.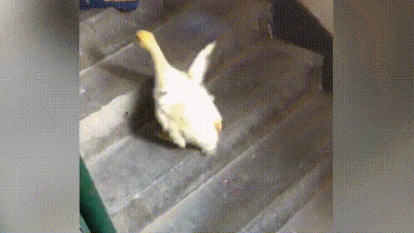 The goose, Yuanbao, can climb stairs and loves hot baths, according to her former owner Cai Qingqing.
Cai, who lives in Baoshan District, has raised Yuanbao for one and a half years. But her family can't take care of her anymore because Cai is pregnant.
When Cai saw the news that Shanghai Maritime University had enrolled Internet celebrity goose Gugu, she soon asked whether the school could take in her goose as well.
After the university agreed to keep the bird, Cai took her feathered friend to school on September 9, joining the big family of geese on campus.
A total of 20 geese are now being raised by the university, becoming an attraction in themselves.
Cai said she will come to see Yuanbao often in the future.
Chinese netizens cheered the news of Yuanbao and her new home, with someone joking, "Great — Gugu has a beautiful girlfriend now!"
Gugu was the first goose officially admitted to Shanghai Maritime University, which was already raising some geese on campus. His former owner asked the school to adopt him as the family had to move away.
Gugu was taken to the university by his former owner on September 7, and has since become an official freshman of the school.