It's back to school for children across China this week, and as usual many children will cry to show their reluctance to give up the summer holidays.
A man in south China had no choice but to put his granddaughter into a bag and carry her over his shoulder before handing her over to teachers, Xinhuanet reported.
The incident happened in a village in Zhongshan, Guangdong Province, on September 3.
The little girl was crying and screaming to express her reluctance to go to kindergarten, so the grandfather finally put her into a bag and carried her to take a school bus.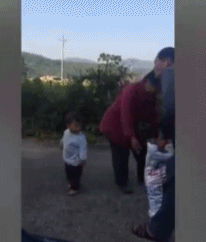 Footage circulating online shows the girl continued to cry even after she was freed from the bag.
"No matter how you struggle, it won't change your destiny to go to kindergarten, baby," a netizen joked after seeing the video.
Others shared their personal experiences, with one commenting, "My grandma used to put me in a bamboo basket and take me all the way to school."