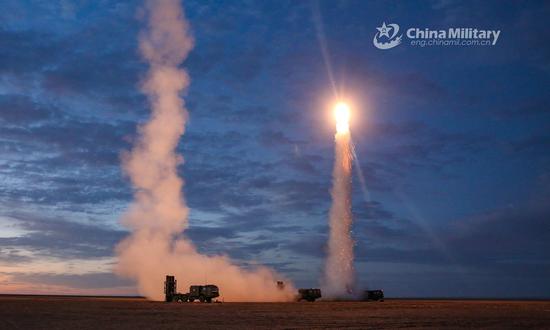 Medium-range air-defense missile system attached to a missile battalion of an air-defense brigade under the PLA 72nd Group Army fires a surface-to-air missile during a recent round-the-clock air-defense training exercise in northwest China's Gobi desert. (Photo/China Military)
China carried out a land-based, mid-course antiballistic missile (ABM) technical test on Sunday, with analysts saying the successful interception proved the reliability of the country's antiballistic missile umbrella at a time when technologies on both ballistic missiles and antiballistic missile interceptors are improving.
Conducted at night within the Chinese border, the test reached its desired objective, China's Ministry of National Defense announced in a press release late on Sunday.
The test is of defensive nature and is not aimed at any country, the Chinese Defense Ministry said.
It marks a consecutive year China has conducted this kind of test. A similar test was held in February 2021, according to an announcement of the Chinese Defense Ministry at the time.
The latest test brings the tally of publicly announced Chinese land-based ABM technical tests to six. According to media reports and official statements, other known ABM tests were carried out by China in 2010, 2013, 2014, 2018 and 2021. It was not revealed in which interception phase the test in 2014 was carried out, while all other five were carried out in the mid-course phase.
More tests indicate China's antiballistic missile capability is becoming more reliable and such trials contribute to China's national defense and security, and serve as a deterrent against nuclear blackmails, a Chinese military expert who requested anonymity told the Global Times.
The flight of an intercontinental ballistic missile usually consists of three phases. First is the boost phase in which the rocket booster powers the missile into sky. Second, the mid-course phase in which the booster stops as the missile travels outside of the atmosphere. Third and last, the reentry or terminal phase in which the missile reenters the atmosphere and dives on its target.
Intercepting an intercontinental ballistic missile during its mid-course is very challenging because during this phase, the missile, usually equipped with nuclear warheads, travels high outside of the atmosphere at very high velocity, experts said.
It is technically easy to intercept a ballistic missile in the boost phase because the missile is still close to the ground and accelerating, but it is difficult to get close to the launch site which is usually deep in hostile territory. In terminal phase, the interception is also challenging because the speed of the diving missile is very high, analysts mentioned.
Now that countries around the world are developing hypersonic missiles with wave-rider gliders that can adjust their trajectories mid-flight when they reenter the atmosphere, which makes terminal interception even more difficult, mid-course interception has become even more important, analysts remarked.