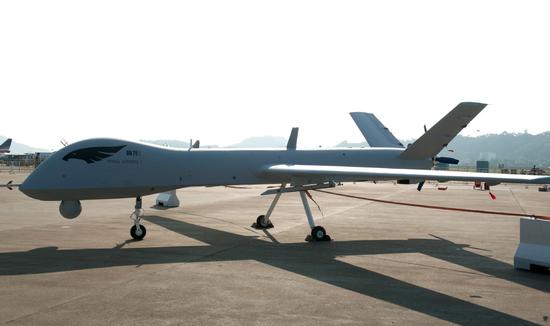 Wing Loong I drone is displayed at an air show in Zhuhai, Guangdong Province. (Photo by Chen Haoqing/For China Daily)
Aviation Industry Corp of China, a State-owned aircraft conglomerate, is renowned for the variety of unmanned military aircraft it produces.
The company's Wing Loong family is a popular brand of armed drone in the international arms market. At least 100 Wing Loong I units have been delivered to foreign users, with Serbia reported to be the newest buyer of the lethal weapon. The Wing Loong II has also garnered at least one foreign contract, which AVIC described as being "very big".
Now the industry giant is striving to promote its Harrier-and Cloud Shadow-series reconnaissance/strike drones in the domestic and international markets.
AVIC brought scale models of the Harrier I, II and III as well as Cloud Shadow drones to a five-day open house event, hosted by the People's Liberation Army Air Force in Changchun, Jilin province, which began on Thursday.
The event celebrates the Air Force's 70th birthday, which will fall on Nov 11.
Developed and built by AVIC's Guizhou Aircraft Corp, the Harrier I is ready for mass production and sale, while the Harrier II and III are still undergoing testing at Guizhou Aircraft.
AVIC said the Harrier I has a maximum takeoff weight of 700 kilograms and can carry up to 100 kg of reconnaissance devices to reconnoiter battlefield situations or assess airstrike outcomes. It can stay airborne for 16 hours.
The Harrier II, which made its maiden flight in July last year, has a maximum takeoff weight of 1.28 metric tons, including 400 kg of missiles, bombs or reconnaissance equipment. It can operate as long as 32 hours in a single flight.
The latest and largest model in the series, Harrier III, features a delta-wing structure with a maximum takeoff weight of 2 tons. The aircraft is capable of carrying 700 kg of weapons and instruments and undertaking a 24-hour operation. It can also be modified to be deployed on ships.
AVIC said all the Harrier models can be adapted to execute civilian operations such as geological surveys, monitoring forest fires and smuggling surveillance.
The Cloud Shadow, developed by AVIC's Chengdu Aircraft Industry for overseas markets, has a maximum takeoff weight of 3 tons and a top speed of 620 kilometers per hour. It can carry more than 400 kg of missiles, rockets and bombs, according to information published by AVIC.
Wang Yanan, editor-in-chief of Aerospace Knowledge magazine, said AVIC seems eager to offer more options to potential buyers seeking multipurpose drones at affordable prices.
"Chinese military drones have gained a good reputation in overseas markets thanks to their reliable capabilities and combat-proven performance, and this will definitely help AVIC promote those new types to its target clients," he said.