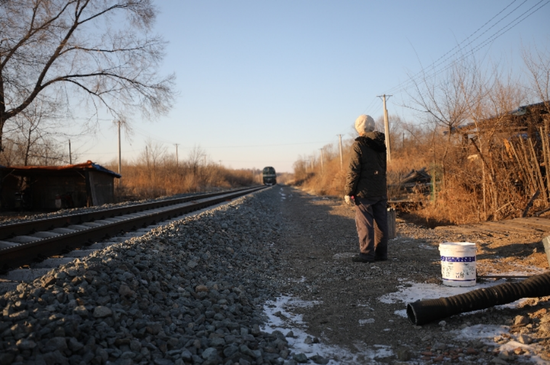 A local waits for the train to come. (Photo provided by Tonghua railway)
For residents in Huojugou village in China's Changbai Mountains, a train whistle is a euphonious sound that will bring gurgling water to their kitchen and bathhouse.
For 44 years, the mountainous village and several others in northeast China's Jilin Province have relied on a train, which only has one locomotive and one tank car, to provide their water supply.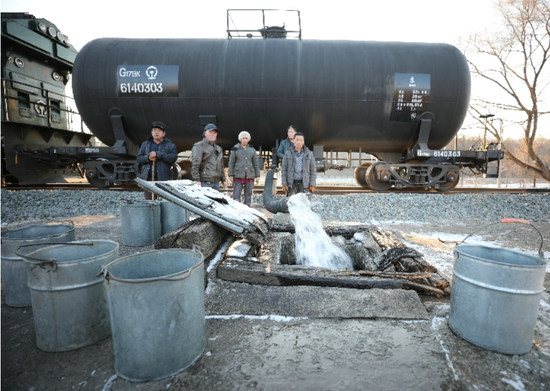 Water rushes from a pipe to a cistern at the station. (Photo provided by Tonghua railway)
The train commutes between the towns of Songshu and Baihe, nestled deep in Changbai Mountain. Since 1975, it has run for more than 1.6 million km, delivering water to over 2,600 nearby villagers that had limited access to clean water.
Though cisterns have been built to store water unloaded from the trains, villagers along the line still keep the tradition of welcoming the train in person, clanking their buckets and bottles.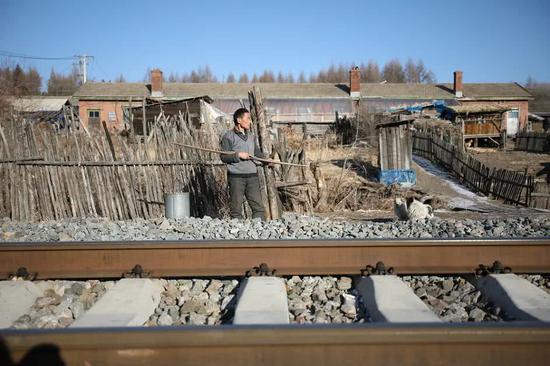 A local waits for the train. (Photo provided by Shenyang railway bureau)
"Fetching water used to be a big headache. We had to travel to a far-away river to get water and even make a hole in the ice during winter," said Li Zuopei, an 80-year-old resident in Yingbishan village.
"Then the small train sent water right to our doorsteps, and it's amazing that the service has been going on uninterrupted for so many years," said Li.
The water-delivering trains are a special service on the Hunbai Railway, a scenic line with diesel trains. They were launched to address the limited access to drinking water in the area, where the underground water is undrinkable due to complex mineral components.
"Water coming out of the wells used to render us with Kaschin-beck disease, and we treated every drop of (safe) water like it was oil," said Zhou Aiqin, another resident at Huojugou.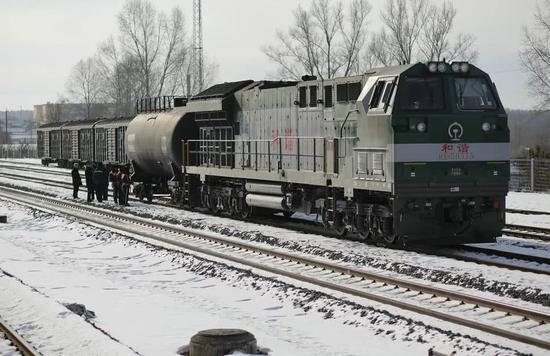 The small train. (Photo provided by Shenyang railway bureau)
Running the train all year around is no easy task, especially in winter when temperatures easily drop below minus 20 degrees Celsius. Some of the fuel is spent heating the water during the journey to prevent freezing.
"Water often drips onto our clothes and instantly freezes. We cannot bend our arms or legs and have to move like a gorilla," said Jia Lin, a veteran worker at the line's Quanyang station.
Train crew and station workers, like residents along the line, have been attached to the delivery missions, even as demands have greatly shrunk due to improved water infrastructure and relocation of villagers. The trains now run three times a month, down from three times a week, to serve only 300 residents.
"But as long as the demand exists, our small train will keep on running," said Xin Yuehong, head of Quanyang station.