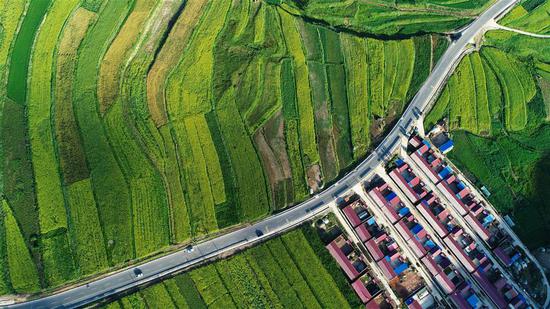 Photo taken on Aug. 19, 2018 shows a newly-built road across rapeseed flower fields in Guyuan, Xihaigu, northwest China's Ningxia Hui Autonomous Region. (Xinhua/Wang Peng)
Huang Zhanding, 74, a resident of Shanghuang Village, sometimes stares at his old cave dwelling less than a kilometer away from his new home.
Huang lived in the cave for more than 60 years, but moved to a brick home in 2007. He currently lives in a bigger home, with modern home appliances, completely different from life in the cave.
Shanghuang, administered by the city of Guyuan, northwest China's Ningxia Hui Autonomous Region, is in Xihaigu, a largely mountainous region which used to be labeled the "most unfit place for human settlement" by the United Nations in the 1970s due to land reclamation, drought and a fragile ecological environment.
Xihaigui comprises nine impoverished counties and districts, which fall under jurisdiction of three cities of Guyuan, Zhongwei and Wuzhong in southern Ningxia. Nearly 200,000 residents in Xihaigu live below the poverty line, accounting for around 80 percent of Ningxia's population in poverty.
Data showed rural residents' income in Xihaigu was only 40 percent of the national average in 1982. And more than 846,000 people of the region lived on government relief.
Over the past decades, however, Xihaigu has witnessed enormous changes as the country has been waging war on poverty.
"Life is much better now. There is tap water, rice, noodles, vegetables and meat. I can eat whatever I want," Huang said.
BITTER MEMORIES OF WATER
When Huang looks at the old cave, bitter memories come flooding back. People used to have to get up before dawn to carry water from the local streams. Those who came to the streams too late did not have water to drink.
"We could only get water from a small stream in the ravine each day. Cattle and sheep drank water there. It tasted terrible, but we had no choice," Huang said.
Ma Hanwen also lives in Xihaigu. He used to collect spring water in the mountains with his donkey, and stored rainwater in a cistern. When that was used up, he had to buy water 15 km away. Water was incredibly sparse.
"I read from textbooks that water from lakes and rivers ran into the ocean. It was beyond my imagination that how much water there could be," Ma said.
Fortunately, cisterns, water buckets, and donkeys have become memories, as a safe drinking water project started supplying water to residents in central and southern Ningxia in 2016.
With an investment of 4 billion yuan (about 590 million U.S. dollars), 1.1 million residents in the regions now have access to safe drinking water. Nearly 95 percent of rural households in Guyuan have tap water.
"Only through solving the problem of water shortages can poverty be reduced," said Bai Yaohua, head of the regional water resources department.
Xihaigu has been channeling water from the Yellow River and Jinghe River, a tributary, and developing water-saving approaches.
In Guyuan, about 1,100 cubic meters of fresh water will be diverted annually from the Yellow River, which enables the city to begin growing vegetables and herbs, and developing a wine industry.