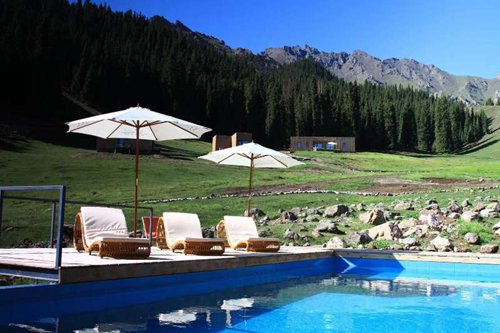 The Kruger Camps in Wenquan county. (Photo/Courtesy of Wenquan government)
Special: Belt and Road Five Years
Mixed and harmonious
On the Sailboat Square in the city center, people gather to enjoy square dancing, like any other cities in China.
But it's different in Bole, because people dance to a Xinjiang-style of music — Uyghur, Kazakh and Mongolian folk songs.
"A Kazakh uncle is our teacher," Xu Jinzhi, a retired teacher in Bole, told the Global Times. Xu and several of her friends were in colorful Uyghur traditional dresses.
Hajile, an 11-year-old Uyghur girl, was a little star in the crowd. She told the Global Times she only started dancing several months ago.
Across the street was a noisy night market. More than 100 tables were surrounded by local residents and tourists. People speaking in different Chinese dialects enjoyed BBQ, seafood, milk tea and kawas, a popular local drink made from honey and hops.
Since thousands of years ago, camel teams carrying silk, jade or melons have been passing through this place.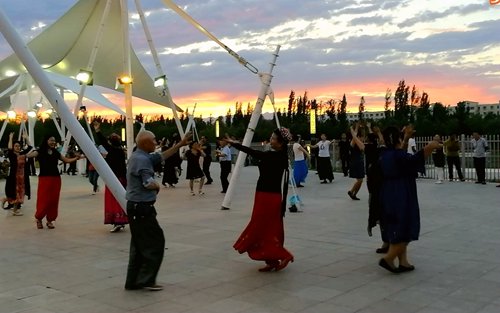 Square dance in Bole. (Photo: Bai Yunyi/GT)
Eastern and Western cultures have long been communicating and blending in Bortala.
In 1771, the Mongolian clan Torghut decided to move back to China from the Volga region of Russia, and was warmly welcomed by Emperor Kangxi.
The clan was settled in an area in west Xinjiang that included Bortala.
In the 1760s, another clan, the Chahar, also settled down in Jinghe, Bortala under Emperor Qianlong's orders to protect the border.
In recent decades, people from different parts of China moved to Bortala to help construct the region.
Nowadays, Bortala has a population of 500,000, consisting of 35 ethnic groups, including Mongolian, Han, Hui, Uyghur and Kazakh.
All the different groups living together creates a diverse and harmonious atmosphere in Bortala.
Open and secure
On the morning of August 2, the railway station of Bortala's Alashankou city, a trade hub that borders Kazakhstan, became very crowded. A train carrying 730 tourists from Central China's Hubei Province arrived here after a five-day journey across China.
"Through the tour Hubei and Xinjiang could have a closer connection," Hu Changrong, 68, a tourist on the train, told the Global Times.
In the following two weeks, the tourists would visit the main scenic spots through railways in Bortala as well as in Turpan, Kanas Lake and Heaven Lake on the Celestial Mountains.
Apart from traveling by train, well-built highways have now connected the scenic spots in Xinjiang.
In Bortala, nowadays visitors can even take light aircraft to reach Saryam Lake and Kruger Camp directly from Bole airport.
Moreover, the development of tourism could not be achieved without security.
"In Xinjiang, police officers are demanded to arrive at the scene within one minute after receiving the alarm call," Xu Hu, deputy chief from the prevention and control team of Bole Public Security Bureau, told the Global Times.
Xu said that the police have been using advanced technologies for security, such as facial recognition systems, a smart system that can spot abnormal images on surveillance video, as well as one-click buttons at key locations to report an incident to the police.
Added efforts in security have sharply dropped the crime rate in Bole in the past years, said Xu.