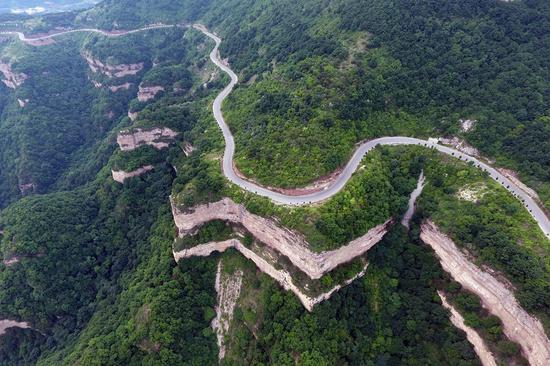 Aerial photo taken on June 18, 2019 shows a road in Wuxiang County of north China's Shanxi Province. (Xinhua/Zhan Yan)
The major road in Lingtou, a small village in north China's Shanxi Province, is named "Weishang," meaning small online shops. Many locals are engaged in e-commerce, including villager Zhang Xiaoying.
Zhang, 53, sells millet, beans, eggs, honey and other agricultural products both online and offline. With logistics services available at her doorstep, she brought home more than 100,000 yuan (15,290 U.S. dollars) in 2020.
In the same year, the cement road to her village was widened, allowing large trucks to enter. "My business wouldn't be as booming as it is without the road," Zhang said.
As China advances rural vitalization following its eradication of absolute poverty, improved rural roads have helped farmers dispatch their goods and brought tourists and other resources, facilitating the development of industries including e-commerce, tourism and agriculture with local characteristics.
The total length of China's rural roads will stabilize at approximately 5 million km by 2035, and the quality of roads leading to townships and villages will be further improved, Wang Zhiqing, vice minister of transport, told a press conference on Wednesday.