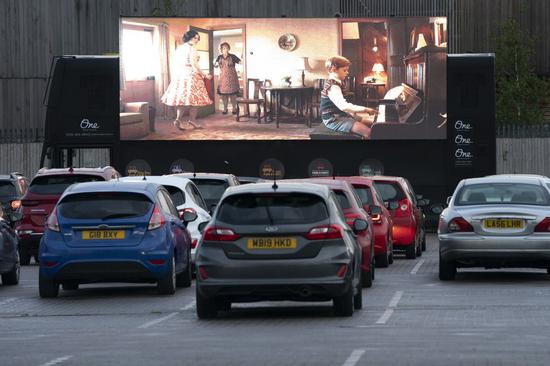 People sit in cars watching a film at a drive-in cinema amid the COVID-19 pandemic in Manchester, Britain on June 27, 2020. (Photo by Jon Super/Xinhua)
Special: Battle Against Novel Coronavirus
New car registration in Britain plummeted by 39.5 percent in January year-on-year, marking the worst start to a year since 1970, the British Society of Motor Manufacturers and Traders (SMMT) said in a report released Thursday.
Last month, only 90,249 new cars were registered as the shutdown of showrooms, caused by COVID-19 lockdown in the country, hit the market significantly, said the report.
"Following a 20.4 billion pounds (about 27.8 billion U.S. dollars) loss of revenue last year, the auto industry faces a difficult start to 2021," said Mike Hawes, chief executive of the SMMT.
Declines were recorded in both petrol and diesel cars registrations in the month, down by 62.1 percent and 50.6 percent respectively, said the SMMT.
However, registration for battery electric vehicle (BEV) grew by 54.4 percent in January year-on-year, accounting for 6.9 percent of the overall market share, it said.
Due to the current COVID-19 lockdown and showroom closure, the auto body downgraded the forecast for 2021 from more than 2 million units to below 1.9 million.
"With lockdown restrictions in place until March -- the most important month of the year for the sector, accounting for one in five new car registrations on average -- the industry will face a challenging year as showroom closures depress consumer demand, which has a knock-on effect on manufacturing output," said the SMMT.
"Lifting the shutters will secure jobs, stimulate the essential demand that supports our manufacturing, and will enable us to forge ahead on the Road to Zero," Hawes added.
England is currently under the third national lockdown since the outbreak of the pandemic in the country. Similar restriction measures are also in place in Scotland, Wales and Northern Ireland.