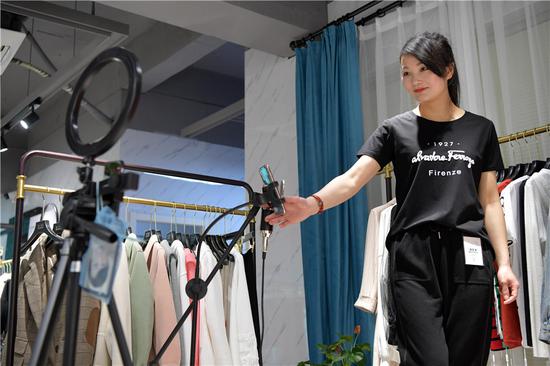 A model promotes clothes online in Nanchang, East China's Jiangxi province, on March 25, 2020. (Photo/Xinhua)
Online shopping has played a prominent role in driving consumption in China, according to a recent online news conference by the Ministry of Commerce.
The just-concluded online shopping festival, which ran from April 28 to May 10, fuelled online retail sales worth over 430 billion yuan ($60.5 billion) across the country, up 20.8 percent year-on-year, Gao Feng, spokesperson for the Ministry of Commerce, said.
The shopping festival, first launched last year, was jointly initiated by the Ministry of Commerce, the Ministry of Industry and Information Technology, the State Post Bureau and the China Consumers Association.
Some 115 e-commerce companies with over 100,000 brands and more than one million online stores, took part in the festival, registering total sales of 182.51 billion yuan, an increase of over 1.37 times from last year's event.
The shopping spree tested out some new features. Consumers, especially the young generation, have a greater sense of recognition of domestic products. On one e-commerce platform, more than 500 time-honored brands altogether generated over one billion yuan in sales.
A great variety of products, ranging from green foods to electronic devices, continued to spring up as best sellers online. For instance, sales of somatosensory game consoles jumped 13 times year-on-year during the event, while an e-commerce platform saw its smart digital product sales surge by 113 percent, and 5G mobile phones increased by 90 percent.
More foreign trade companies turned to e-commerce platforms to offset the decline in external demand. Nearly 10,000 foreign trade firms set up online stores on e-commerce platforms, and some companies had 16,000 orders a day, with average daily sales volume increasing by 300 percent.
During the festival, the country's rural online retail sales grew 40 percent year-on-year, and of these sales in national-level poverty-stricken counties increased by over 50 percent. The festival also helped make more farm produce accessible in cities. Online retail sales of agricultural products witnessed an over 70 percent increase.
Livestreaming promotion and sales went viral. More than 700,000 live broadcasts were held during the festival, with over 2.9 billion viewers.
Online shopping has also helped the recovery of offline consumption. Online catering sales expanded 68 percent over the same period last month, and online travel sales grew more than 150 percent month-on-month.