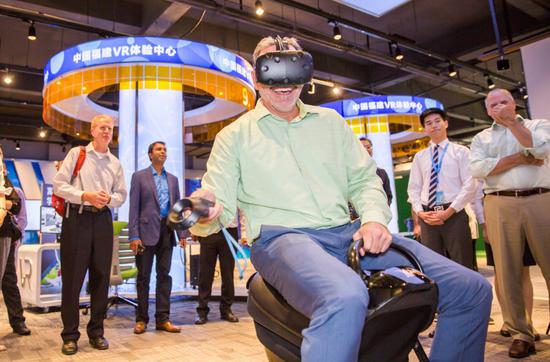 A customer experiences a virtual reality product of NetDragon in Fuzhou, Fujian province. (Photo provided to China Daily)
Special: Belt and Road Five Years
The Belt and Road Initiative is presenting BRI economies with new access to advanced technologies and providing Chinese internet companies with greater exposure on the global stage, according to the CEO of a Chinese game and education service provider.
"A large number of foreign markets are showing a strong desire to improve their education quality and efficiency. It is China's BRI that is building a bridge to link these economies with Chinese companies," said Xiong Li, CEO of NetDragon Websoft Holdings Ltd, in an interview with China Daily.
Xiong's words came as the company said it is investing 3 billion yuan ($438 million) in building a 3.9-square-kilometer education town, which is expected to unite a total of 150,000 talented individuals with high-quality resources in sectors including education, technology and finance over the next three years.
The education town will not only drive local development but also act as an international innovation hub open to countries and regions across the globe, especially those involved in the BRI, he said.
NetDragon, founded in 1999, used to be a leading online games provider but has transformed from a games-only player to also focusing on education in the past decade.
It has developed and launched a string of integrated educational devices including smart boards and panels as well as feedback and evaluation systems, which mainly help teachers to interact with students more efficiently.
With its gaming background, NetDragon has been able to apply advanced technologies such as virtual reality to its products.
The company, which is based in Fuzhou, Fujian province, already offers its education services in 192 countries and regions including the United States, the United Kingdom, Indonesia and Turkey and has accumulated nearly 100 million users.
"In terms of going global, expanding into BRI economies has always been high on our agenda," Xiong said.
The company has a strong presence in economies involved in the initiative, such as Russia. It has also inked cooperation proposals with more than 16 BRI economies.
"When beefing up our businesses in BRI economies, we mainly choose to cooperate with local partners, while in some economies, we even cooperate directly with local governments and authorities," Xiong said.
He added that it is an ideal way to further strengthen their businesses abroad.
In 2015, NetDragon acquired a 100 percent stake in London-listed Promethean, whose products were already being used in 100 countries and regions including some involved in the BRI and 1.3 million classrooms globally.
The acquisition has provided NetDragon with a strong brand, global sales and marketing channels. It also helped Promethean post a profit. Promethean's 2017 profit was 53 million yuan, a rebound from a loss of 50.6 million yuan in 2016.
At the time of the takeover, Jim Marshall, then CEO of Promethean, said: "We're extremely excited to join NetDragon where we will be able to continue our mission of empowering students and teachers."
Earlier this year, the company also bought Edmodo, one of the world's most active learning communities with more than 90 million registered users, marking another step forward in going global.
"Once we start our business in a region, we believe that the demonstration effect will facilitate our next business in the overseas markets," he said.
"We'll continue to bolster our businesses in foreign markets, especially some BRI ones, this year, to improve the quality of education in different countries and regions," Xiong said.