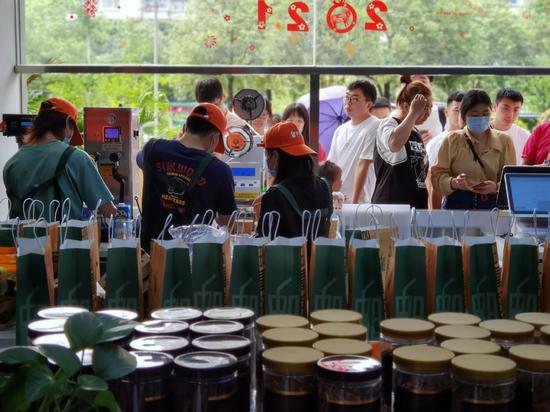 Employees of Post Oxygen of Tea prepare milk tea for customers at its store in Fuzhou, Fujian province, on June 6. (CHEN QIN/FOR CHINA DAILY)
Beverage phenomenon more than just a 'bubble' economy as drugstores, supplement makers throw in hats
Milk tea has become somewhat of a national obsession and a booming business in China. Its popularity has fueled many retailers whose main activities lie elsewhere to open milk tea stores to generate extra revenue and attract more customers.
China Post Drugstore, a branch of China Post Hengtai Pharmaceutical Co Ltd-itself a subsidiary of China Post-has opened a milk tea store offering drinks and healthcare services in downtown Fuzhou, Fujian province.
Named Post Oxygen of Tea, the store has recently gone viral online. Many people got to know the brand through social media sites like Weibo and short video app Douyin, as well as stamp collecting groups, as they are naturally curious about all things postal.
Opened late last year, Post Oxygen of Tea provides various drinks including traditional teas, or teas flavored with milk, fruits and other varieties. The beverages range from 7 yuan ($1.08) to more than 20 yuan each.
"China Post Drugstore is bullish on the growth potential of the milk tea sector and thus has opened a store to expand its business operations. It is expected to see growing business opportunities fueled by strong demand," said Zhang Weilin, an analyst at the LeadLeo Research Institute.
"The milk tea sector has been extremely popular in recent years, and it doesn't lack any attention from capital markets and social media platforms. A non-beverage retailer opening a milk tea business is in itself an eye-catching event,"Zhang said.
The store is located on the first floor and inside a China Post Drugstore in the Gulou district of Fuzhou. On the second floor, shelves are stacked with books and healthcare, and psychological counseling services by pharmacologists are also available.
It is common to see long queues outside the store for its popular drinks. Customers said it usually takes at least a half-hour wait to get a drink, and tea fans tend to linger on premises after ordering. The store doesn't have plans to open stores nationwide for now.
Lin Qingjing, store director of Post Oxygen of Tea, said: "Our original intention was to make the pharmacy more innovative and distinctive, and we didn't intend to open a commercial milk tea store that would become popular online. We didn't expect such popularity. Most pharmacies nationwide are ordinary and look a bit staid, and buyers won't stay long when they purchase medicines. We wanted to do something different to let people relax.
"Physical and mental health and happiness are equally important, and opening a milk tea store can help provide a lighthearted environment for consumers as they take their time to select medicines."