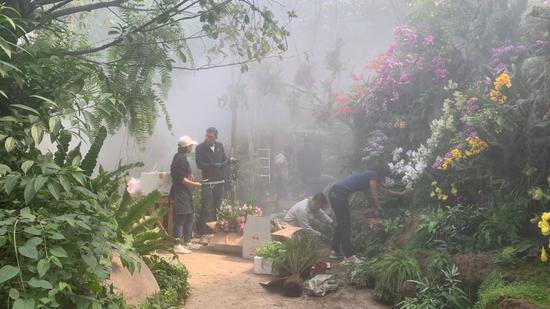 Thai gardeners work on orchid landscaping at the Botany Pavilion of the Beijing Expo 2019. (Photo/CGTN)
Special: Beijing int'l horticultural exhibition 2019
Live Green, Live Better. Nothing matches the theme of the Beijing Horticultural Exhibition better than flowers and trees.
Thai gardener Sahuttachai Srithong has worked all over the world in orchid landscaping for 20 years. This time, the florist and his team were invited to decorate Beijing's botany pavilion.
"I'm really happy. Many people come to look at my work. So excited, I'm proud," the florist chuckled.
As the big day draws near, designers are putting the final touches on their work. The Columbian team is paving grass on the stairs of what looks like an ancient Greek theater – but this design has a potato farm built with 3,500 discarded tires.
Columbia designer Alexandra Posada stands in the middle of a potato farm inspired by ancient Inca agricultural terraces. (Photo/CGTN)
"This is a way of changing perspectives, of helping us understand how we can build better by using our resources better," said Alexandra Posada, designer of the project.
Posada drew inspiration from the ancient Inca terraces - growing 2,000 potatoes just like the old Peruvians – but inside tires. The potato expert told CGTN that there are over 5,000 kinds of potatoes in the world, and she believes these popular vegetables can play a part in the future food supply.
"It's one of the most nutritive and the most efficient in terms of the resources," said Posada, adding, "The potential of the potato and its bio-diversity is an answer to the future in terms of how we better feed ourselves as humanity."
Even small potatoes can make a big difference, just like the pavilions themselves. Next to the multi-million dollar Qatar building is the Yemen pavilion. Architect Rashad Al-Maqtri says it's a window to showcase the country's unique culture and landscapes to the world.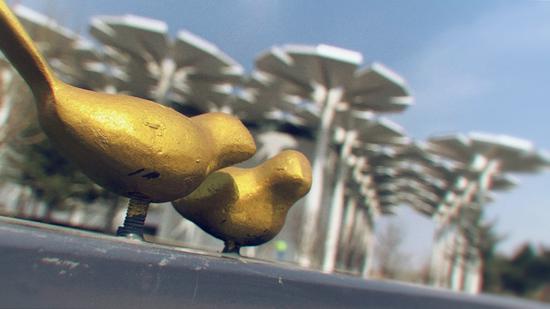 Bird-shaped decorations, painted gold, glimmer on a handrail in front of the International Pavilion. (Photo/CGTN)
"This is very important for Yemen. This is also very important for the environment. So we try to do our best in this expo," said the architect. He added that the pavilion will also provide Yemen's famous coffee and honey, along with cultural performances when the expo kicks off.
So far, 110 countries and organizations have registered to participate in the expo. And in less than three weeks, visitors will be expected to see and learn more about their cultures, and most importantly - living green.