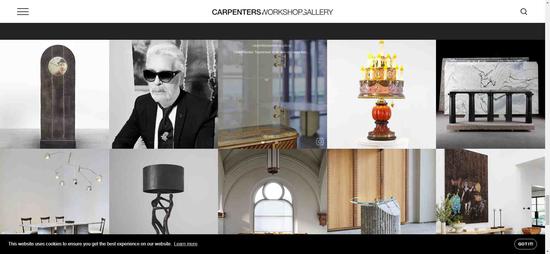 Information about Karl Lagerfeld's exhibition on the Carpenters Workshop Gallery's website. /Screenshot via Carpenters Workshop Gallery
We've had too many goodbyes since 2018, and the start of 2019 is not very fashion-friendly.
Karl Lagerfeld, the director, and icon of Chanel died on February 19 at the age of 85, according to reports. Earlier, since Lagerfeld's physical reasons, he missed the Chanel Haute Couture show on January 22.
As one of the world's most prestigious fashion icons, many people do not know that in addition to luxury brands, Lagerfeld has done interior design for some hotels and apartments.
According to Mansion Global, his works included Patrick Hellmann Schlosshotel in Berlin, Germany, Monaco's Hotel Metropole Monte-Carlo, Paris's Hotel de Crillon, Sofitel SO Singapore, the Grand Lisboa Palace resort and casino in Macau, China, set to open later this year, as well as two yet-to-be-completed condo lobby projects for the Estates at Acqualina, a luxury residential complex in Miami's Sunny Isles Beach, and Art Shoppe Lofts + Condos in Toronto.
As early as 1990, Lagerfeld participated in the interior design of the Patrick Hellmann Schlosshotel in Berlin, Germany, and Karl Lagerfeld made all the decoration in the Grunewald suite, as the hotel's official website noted.
The Hotel de Crillon in Paris, France, is itself a legendary attraction. It is just 300 meters from Tuileries Garden and the Champs-Elysees, and many rooms have direct views of the Eiffel Tower. Built in the 18th century, this hotel is the masterpiece of renowned architect Ange-Jacques Gabriel. Originally built as a residential building, it attracted many famous tenants. Later, it was transformed into a hotel, which is known as a millionaire's paradise for its comfort and luxury.
As Sina's report, the hotel has regained its former grandeur after being bought by Saudi Prince Mutaib Ben Abdullah Ben Abdulaziz for 250 million euros from Starwood Capital in 2010. Hotel de Crillon has undergone numerous redecorating, and generations of designers have described its interior design as gorgeous. At the end of 2013, according to Rosewood's official statement, they brought in Karl Lagerfeld to design two suites. After four years of renovations, the hotel was back in public view in 2017.
According to the Robb Report, this legendary icon even purchased a model of the Hotel de Crillon at a Christie's auction several decades ago.
Located in the heart of Monaco, the Hotel Metropole Monte-Carlo was founded in 1886 and had a history of more than 150 years. Karl Lagerfeld has redesigned the hotel's outdoor terrace, garden, pool and Odyssey by Night restaurant, the third restaurant opened by celebrity chef Joel Robuchon at the hotel.
Using black and white as the main element of the pool, Karl Lagerfeld created a 65-foot-long mural with 15 large glass screens, inspired by Homer's Iliad and Odyssey.
Lagerfeld's love of interior design and Hotels inspired him to expand into the hotel industry, creating international luxury hotel brand Karl Lagerfeld Hotels& Resorts.
It's not the only area he's been involved in other than fashion. According to ELLE Decoration, Lagerfeld has been an avid fan of Memphis style. He built a Memphis apartment for himself in Monaco in the 1980s and filled it with his Memphis collection, which auctioned in 1991 by Sotheby.
A series of architectural sculptures designed by Karl Lagerfeld is on display at the Carpenters Workshop Gallery in London on January 24 to March 8, 2019. This group of works of art, with contemporary architectural techniques and styles, combined ancient Greek classical marble materials and golden proportion modeling.
This is the first exhibition of Karl Lagerfeld's sculpture works during his lifetime.