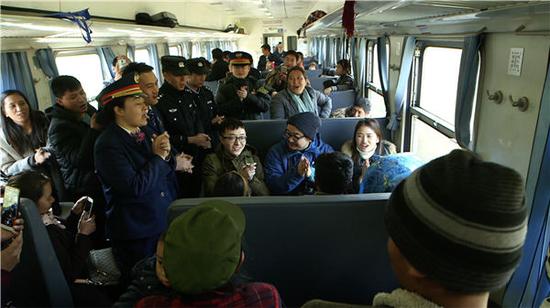 A scene from the first episode of the CCTV documentary The Slow Train Home shows passengers and crew on board the No 5633 train on the Chengdu-Kunming route. (Photo provided to China Daily)
A documentary series soon to be aired on CCTV tells stories of China's legendary green trains.
Television producer Ren Chongrong remembers the day when she crawled through a window to board a train that was headed from Beijing to her hometown Chongqing in 1994.
It was during a winter vacation for Ren, then a student at China Journalism College, which was based in Beijing and shut down in 2002.
After being literally pushed into the crowded carriage by two classmates, she found that the train started moving before the other two youngsters could get on board.
It was a "green-skinned" train, which was slow and crowded, and the journey was unforgettable, she says.
"As I failed to purchase a seat ticket, I sat with the luggage alone on the train floor for more than 30 hours," says Ren, 45, now working with state broadcaster China Central Television.
But the tough journey also provided Ren with spectacular views.
Along the route which stretches nearly 2,000 kilometers, she saw plains, hilly terrain, mountains and village houses. And that is etched in her mind and is an inspiration for the upcoming The Slow Train Home, a six-episode documentary series to air on CCTV's documentary channel from Oct 22 to 27, with a 25-minute episode being shown each night.
Featuring at least one passenger on a green train, the documentary was filmed by six teams comprising a total of 34 members who trekked totally 3,000 kilometers to cross more than 40 villages in the provinces of Guizhou, Sichuan, Heilongjiang and Shanxi, among others, and the Xinjiang autonomous region.
Green trains, once a major transport facility that was used from the 1950s until 1990s, are so named for the color of their external paint.
Their trademark characteristics include being powered by coal, running at a slow pace and shabby interiors without air conditioning or sleeper beds.