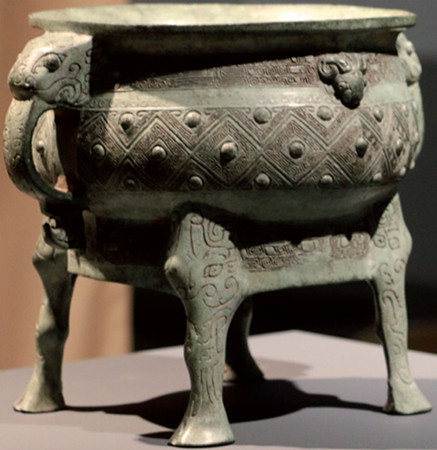 Qianlong's Precious Vessel, the Zuo Bao Yi Gui, exhibited at Christie's Rockefeller Center gallery in New York, will go on sale on Thursday. (File Photo)
Treasures of Chinese fine paintings, archaic bronzes, sculptures and ceramics are featuring at Christie's and Sotheby's Asian Art Week auctions in New York, which started on Tuesday.
Highlighting a rare Chinese bronze ritual food vessel, Zuo Bao Yi Gui, from the early Western Zhou Dynasty, the Christie's Asian art week auctions this year will include eight themed auctions offering over 900 objects across all the sales spanning archaic Chinese bronzes through contemporary Indian painting.
The vessel, which was once in the collection of China's Qianlong emperor of the Qing Dynasty, might be one of only 15 four-legged examples known to exist, according to Tong Lingao, a specialist at the Chinese Ceramics and Works of Art Department of Christie's.
"Where Chinese art is concerned, Qianlong provenance is the best you can get, but the majority of his ancient bronzes still remain in the Forbidden City in Beijing," Tong said.
Only six other archaic bronzes from the Qianlong emperor's collection are known to be in private hands today.
It's expected to sell for between $4 million and $6 million when it goes under the hammer in a stand-alone sale on Thursday.
Apart from the vessel, highlights of the Fine Chinese Paintings auctions include a contemporary painting titled Horses by Ma Xinle from the collection of Steven C. Rockefeller Jr.; a painting by Chinese watercolor master Qi Baishi named Pumpkins, and a vibrant splashed-ink painting titled Landscape by Chinese master Zhang Daqian.
In addition, two rare, early Tang Dynasty gray limestone Buddhist figures, of Avalokiteshvara and Mahasthamaprapta are being sold separately and expected to fetch up to $2.5 million each at Christie's.
Sotheby's Asian Art Week auctions feature two distinct collections – Chinese Buddhist sculpture and Qing Dynasty porcelain from the collection of Stephen Junkunc III, one of the most prominent American collectors of Chinese art in the 20th century, and a collection of classical paintings from the collection of Tang Hung and Fung Bi-Che, both students of Zhang Daqian.
"The selection of Buddhist sculpture at the heart of this offering represents the best such material to appear at auction since the famed J.T. Tai sale at Sotheby's Hong Kong in 1997," said Angela McAteer, the head of Sotheby's Chinese Works of Art Department in New York. "When combined with the exceptional examples of porcelain, paintings and calligraphy, the collection is a must-see for collectors, connoisseurs and admirers of the best of the very best in Chinese art."
The sale of the Junkunc Collection comprises 17 pieces that span nearly 1,000 years of early Buddhist stone, lacquer and gilt-bronze sculptures dating from the Northern Wei to Ming dynasties, led by a rare painted limestone figure of a standing Bodhisattva from the Tang Dynasty that is expected to sell for up to $ 2.5 million.
They are among the over 1,000 works of offered across six sales at Sotheby's starting on Wednesday.