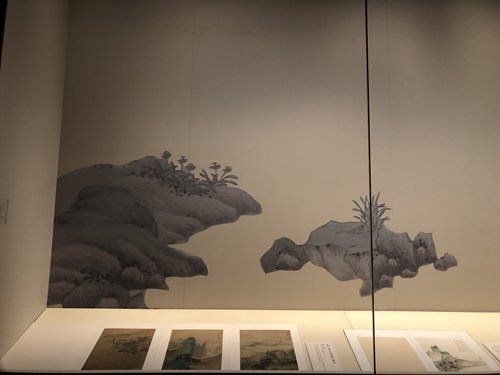 Painting in the Four Wangs painting exhibition (Photo: Luo Yunzhou/ GT)
The opening ceremony for the Palace Museum's The Four Wangs painting exhibition kicked off at the Hall of Literary Glory (Wenhua Dian) at the Forbidden City in Beijing on Tuesday.
For the opening, a musician dressed in a magua, a traditional Qing Dynasty (1644-1911) coat, played music on a guqin, a type of zither, in the central pavilion of the hall.
"I really like the music. It really inspires me," Shan Jixiang - the director of the Palace Museum, which is housed within the Forbidden City - said at the opening.
Shan explained that he hopes to make live performances such as this an everyday part of exhibitions at the museum.
"I want to invite some volunteers who are good at playing musical instruments to our exhibitions so they can play music for visitors while they appreciate our ancient paintings," he said.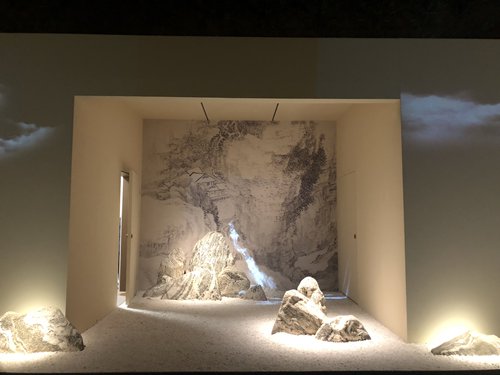 The exhibition hall (Photo: Luo Yunzhou/ GT)
The exhibition features 113 elaborate paintings over three sections, 87 of which are considered the best of the best of the Palace Museum's painting collection.
The "Four Wangs" refer to four famous Qing Dynasty landscape painters: Wang Shimin (1592-1680), Wang Jian (1609-1677), Wang Hui (1632-1717) and Wang Yuanqi (1642—1715).
"The first section is a general introduction of the Four Wangs' painting styles and their main artistic theories. The second provides basic background information about these four masters and displays their works,"Li Shi, a researcher with the Painting and Calligraphy Department at the Palace Museum, told the Global Times.
"The last section, which tends to be overlooked, covers the influence of their paintings and art theory and displays some works by their disciples."
Besides the exhibition, the museum also debuted at the opening a set of books containing all of the Four Wangs' paintings in the museum's collection: A Complete Collection of Paintings of The Four Wangs in the Forbidden City. Covering 700 paintings by the four masters, the book set seeks to provide readers a deeper insight into the artists' works and achievements. Among these works 277 paintings have never been displayed in the museum.
Taking into account that the complete collection may be too academic for some readers, the museum has also published an art book Follow the "Four Wangs" to the Mountains and Rivers, which gives a brief introduction to the four artists and contains some of the four artists' best works.
"We made this so visitors could take home some paintings with them," Shan said proudly.
The exhibition ends on October 30.