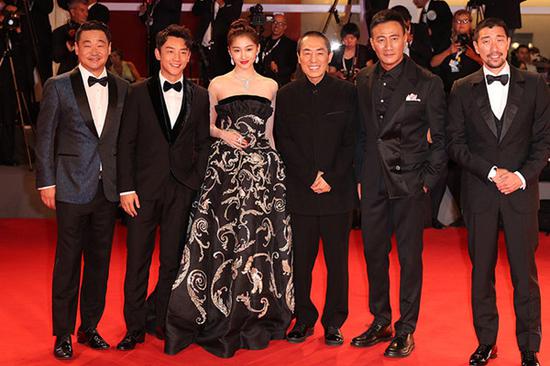 Director Zhang Yimou and his cast members pose for a red-carpet photo at the world premiere of Shadow during 75th Venice International Film Festival in Venice, Italy, Sept. 6, 2018. (Photo provided to China.org.cn by Le Chuang Entertainment)
Set in the period of the Three Kingdoms in Chinese history in the third century, it tells the story of a "nobody" imprisoned since he was eight-years-old and refuses to accept his fate as a puppet double, fighting his way to regain his freedom. Deng Chao plays two roles in the film; one as a local military officer, the other as the officer's shadow double. It is interesting to note, the actor's real-life wife, actress Sun Li, plays the officer's wife in the film.
Zhang was also awarded the Jaeger-LeCoultre Glory to the Filmmaker prize, which is dedicated to "a figure who has left a particularly original mark on contemporary cinema."
"This award is rewarded to people with innovative spirit. I regard it as a kind of affirmation and encouragement for me," Zhang said when accepting the award at the premiere.
Venice artistic director Alberto Barbera said: "Zhang Yimou is not only one of the most important directors in contemporary cinema, but with his eclectic production, he has represented the evolution of global language of film, and at the same time, the exceptional growth of Chinese cinema."
Zhang has a long history and deep relationship with the Venice Film Festival. In 1991, he won a Silver Lion for Raise the Red Lantern, following it up with a Golden Lion in 1992 for The Story of Qiu Ju, which also garnered Gong Li a Coppa Volpi prize for Best Actress. Meanwhile, another Golden Lion came in 1999 for Not One Less. In 2007, Zhang was invited to be the jury chair of the competition section of the 64th Venice International Film Festival.
His new film Shadow will undergo its North America premiere at the Toronto International Film Festival. Le Chuang Entertainment, formerly Le Vision Pictures, Perfect Village Entertainment, Tencent Pictures, and Bona Film Group produced the film. Meanwhile, Well Go USA has obtained the North Americas, British and Australia/New Zealand rights to "Shadow."
In addition, the film was also shortlisted for the BFI London Film Festival main competition unit, as well as making its debut in the Busan Film Festival of the Republic of Korea and the Taiwan's Golden Horse Awards primary. The film will hit Chinese screens on Sept. 30, the eve of China's profitable 7-day National Day holiday.
This year's Venice Film Festival closed on Sept. 8.