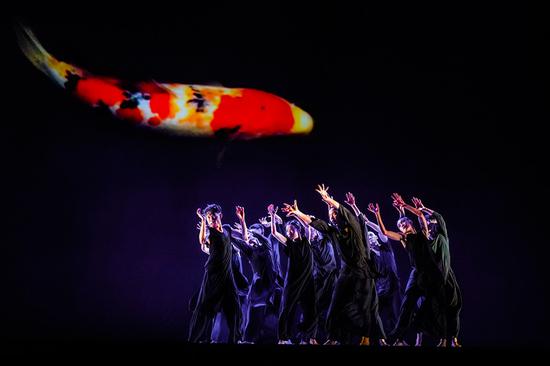 Cheng's work, 13 Tongues, is inspired by a story his mother told him about a street artist in Taipei in the 1970s. (Photo provided to China Daily)
"I simply wanted to start from where I grew up, to transform Bangka in my head with dance movements, sound and vision," says Cheng in Beijing, where he is scheduled to stage the dance production at the National Center for the Performing Arts in Beijing from Oct 26 to 28.
Born into a poor family in Taipei, Cheng helped his family's small shoe business by selling slippers on the streets of Bangka from a young age. The dynamics of street life of Bangka later became the source of inspiration for Cheng's choreography.
Cheng's mother sent him to study dance at the age of 8 as she wanted her son to learn about discipline.
"I never thought about becoming a dancer. I wanted to dance because it made me happy. When I danced to the music, my body was relaxed and I was totally in the zone," Cheng says.
After graduating from the dance department of Taipei National University of the Arts in 2002, Cheng toured internationally with the Cloud Gate Dance Theater and served as its resident choreographer from 2006 to 2010, before becoming its artistic director in 2014.
Due to lower back injuries caused by constant dancing, he retired as a dancer and became a choreographer, allowing the dancers to fulfill the dance moves he imagines in his mind.