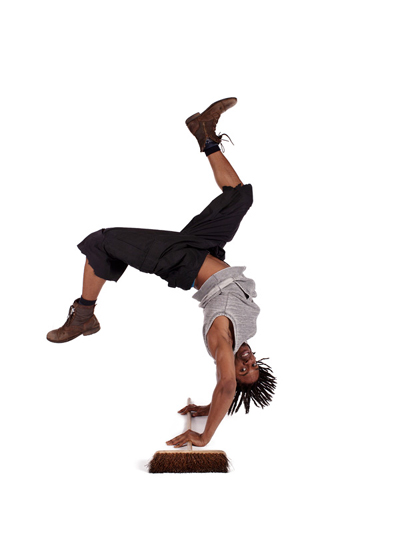 Stomp, a combination of percussion, action and comedy, will return to China with a five-city tour, including of Beijing, Shanghai and Guangzhou. (Photo provided to China Daily)
Later, and with the support of Jones, they were able to fulfill one of Stomp's ambitions, and do a short film based on the opening routine of the show: Brooms.
Separately, in 2004, they held a big party in New York and all the original members of Stomp flew in from all over for it.
"Everyone agreed, except one, Nick Dwyer, who was the first of the original cast to retire, and was also loath to fly.
"Despite the fact that we toured the world together, he never got over his distaste for air travel, and now he was quite happy to say no.
"It was a great night, a great party, and we all celebrated into the night. But wherever we went that night, we carried a life-size photograph of Nick, so that in the photographs, at least, it looked like we were all there," says McNicholas.
For now, Stomp has an open call and anyone can try to join.
The two creators teach simple rhythms and choreography and look for "people with a spark, an open mind, and a different approach".
Phil Batchelor auditioned for Stomp in the summer of 2007. And he performed in Beijing in 2016.
"I went onto the Stomp website after watching the show in London and clicked on a link that said 'Do you want to be part of Stomp? Click here. I clicked the link and a couple of months later I was offered an audition with hundreds of other people from around the country," says Batchelor.
Nicola Chang, who used to perform with the West End Company, joined Stomp in 2016 after attending an open audition.
While he was a percussion student growing up in Hong Kong, his teacher showed him the Stomp DVD and he was immediately drawn to the show.
"I loved the energy, the musicality and the inventiveness," he says.