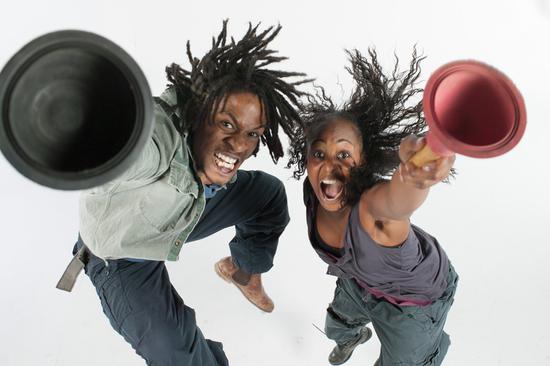 Stomp, a combination of percussion, action and comedy, will return to China with a five-city tour, including of Beijing, Shanghai and Guangzhou. (Photo provided to China Daily)
"Then, literally the next day we were at Dockerills, the local hardware shop in Brighton, picking out metal dustbins," he says.
Later, they performed in Edinburgh at the Fringe Festival, but they had a hard time finding a place to rehearse because they made so much noise and they were repeatedly thrown out of rehearsal rooms. Eventually they decided they had to go somewhere with no neighbors, and drove up to Arthur's Seat, the extinct volcano that overlooks Edinburgh, and they put the piece together there, in the open air, up on the mountain.
"So, in a way, Stomp too shaped high up on the slopes of an extinct volcano," Cresswell says.
As for McNicholas, he says meeting American musician and filmmaker Quincy Jones was one of the highlights of his career.
Jones asked them to perform at the Oscars in 1996. It was to be a tribute to sound effects in cinema, and it was a rare time for sound effects to be used during a live performance.
Another show they were involved in was at the Emmys the following year.