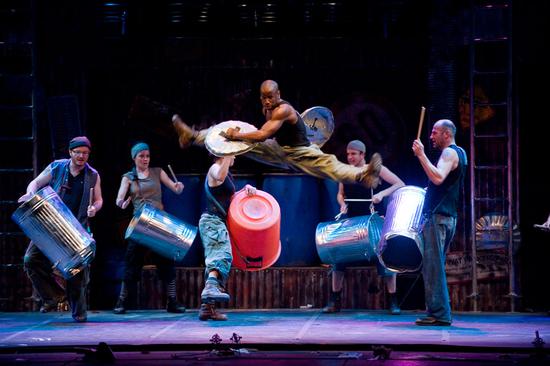 Stomp, a combination of percussion, action and comedy, will return to China with a five-city tour, including of Beijing, Shanghai and Guangzhou. (Photo provided to China Daily)
"The best thing about the show is that we don't need to change it, rhythm crosses all boundaries, countries and cultures. Sometimes the audiences laugh at different things, different observations but in general, the show translates the same, whether in the UK or in China," he says.
"Stomp is all about eight individual characters on stage, all different from one another but working together, and sharing the same rhythm."
A self-taught percussionist, who left school at the age of 15 to pursue music as a career, Cresswell says that as a drummer he loves rhythm, and as a performer he loves the stage.
"Stomp is a great way to explore performance through rhythm. Using rhythm, movement and comedy as a language is a wonderful way to connect with the audience, to share ideas and emotions," he adds.
Asked about how the idea for Stomp took shape, Cress-well spoke about how when he was with the street band Pookiesnackenburger in Covent Garden Piazza, London, decades ago, he saw the African troupe The Burundi Drummers promoting their Royal Festival Hall appearance, with a teaser performance in the street.
"They were thrilling and mesmerizing. And when they finished, they picked up their drums and carried them away over their shoulders. They looked like 'bin men', the people who collected our rubbish by picking up our trash cans and carrying them to their truck, over their shoulders. It was a classic British image, something you would see once a week, early in the morning.