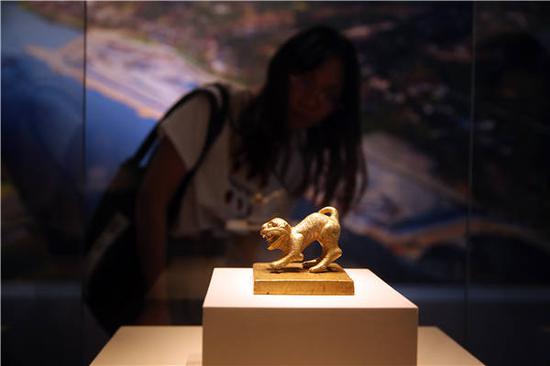 The ongoing exhibition, Sunken Treasures in Jiangkou Battlefield, at the National Museum of China, features a selection of artifacts excavated from the Minjiang River in Sichuan province that are believed to be the site where 17th-century peasant-uprising leader Zhang Xianzhong abandoned treasures while losing the war. (Photo by Jiang Dong/China Daily)
Archaeologists were caught up in a race against time as they tried to unearth sunken treasure ditched in the Minjiang River by a 17th-century rebel leader.
The search for hidden treasure has been one of the most intriguing, dramatic stories in human history. Rumors of the locations of buried fortunes have inspired countless film and TV dramas over the years, and have even acted as a reference point for archaeologists.
In the historical town of Jiangkou, Sichuan Province, a rumor has circulated for centuries among the locals about how a 17th-century rebel leader sank caskets of treasure into the Minjiang River, which runs across the town, at a critical point during one battle.
Historical records also briefly mention that treasure was abandoned by Zhang Xianzhong, a rising leader in the peasant revolts amid the collapse of the Ming Dynasty (1368-1644) who occupied Sichuan-but no details of the exact location were ever given.
One widely spread tale says that the valuables were buried in a section of the river near to "a stone tiger and a stone dragon", and that anyone who recovered them could buy all the land covering Chengdu, the provincial capital, a short distance from Jiangkou.
After interviewing residents in Jiangkou, archaeologists tracked down the crouching tiger and hidden dragon at a village called Shilong (stone dragon) in the district of Jiangkou, which was connected to the Minjiang River by a ditch that ends at a cliff bearing a carving of a flying dragon.
While their efforts fell short of pinpointing the precise location of Zhang's lost fortunes. Armed with the latest technology, the archaeologists spent 98 days in early 2017 unearthing more than 30,000 artifacts from the river.