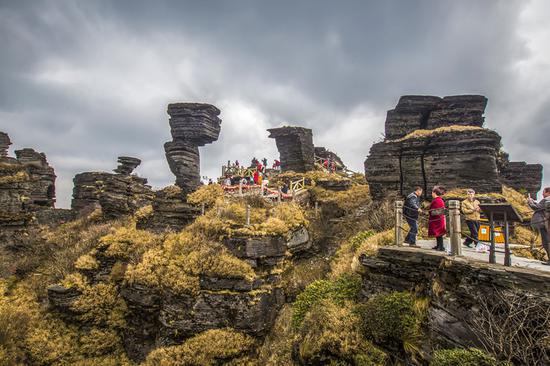 Unusual rock formations attract tourists at Mount Fanjingshan in Guizhou Province. The shape is a result of longtime weathering. (YANG ENUO/FOR CHINA DAILY)
Mount Fanjingshan, a natural habitat for a number of rare plants and animal species in Guizhou province, has joined 12 other locations in China on UNESCO's World Heritage list.
The decision was made on Monday by the group's world heritage committee in Bahrain.
The addition gives China the most natural heritage sites globally. Guizhou is now home to several natural heritage sites including the Libo Karst, Shibing Karst, China Danxia and Mount Fanjingshan.
"The inclusion of Mount Fanjingshan on the World Heritage list showcases to the world the natural beauty of China," said Qin Changwei, secretary-general of China's National Commission for UNESCO.
It is an international acknowledgment of China's achievement in protecting the ecological environment and biological diversity, he said.
In the evaluation report by the International Union for Conservation of Nature published in May, the commission argued that Mount Fanjingshan has proved its aesthetic value as a natural heritage site, achieving the criteria requiring sites to demonstrate outstanding biological diversity and integrity.
However, the report had recommended that the nomination be referred back to China until concerns were addressed about the proper relocation of residents living around the mountain, the management of an increasing number of visitors to the site when listed and the overlap of regulatory bodies.
"We have convinced the IUCN that our plans to manage the increasing flow of visitors is sound," said Liu Yuan, an official at China's Forestry and Grassland Administration. "We also emphasized that the relocation of residents will be based on voluntary principles."
Residents were willing to move after feeling they could benefit from relocation, Liu said.
After moving from mountainous areas of Fanjingshan and accepting resettlement by the government, many residents who were living in poverty managed to improve their living condition, he said.
Mount Fanjingshan, the highest peak in the Wuling Mountain range at an altitude of 2,572 meters, covers 402 square kilometers with a buffer zone of 372 sq km.
The ecosystem includes large numbers of ancient plants, rare and endangered species and unique species. It is home to 4,395 species of plants and 2,767 species of animals.
In addition, it is the only natural habitat of the rare Guizhou snub-nosed monkey and an important reserve for the Fanjingshan fir tree in Asia.
In October 2013, China listed Mount Fanjingshan as a national natural heritage, after which it was proposed as the country's only natural heritage nomination for the 2018 World Heritage meeting.
"We will continue to make efforts to protect and manage the natural heritage site of Mount Fanjingshan and to improve the basic infrastructure there, based on the decision of the World Heritage committee and the Convention Concerning the Protection of the World Cultural and Natural Heritage," said Song Xiaolu, head of the Guizhou delegation to the World Heritage committee meeting.