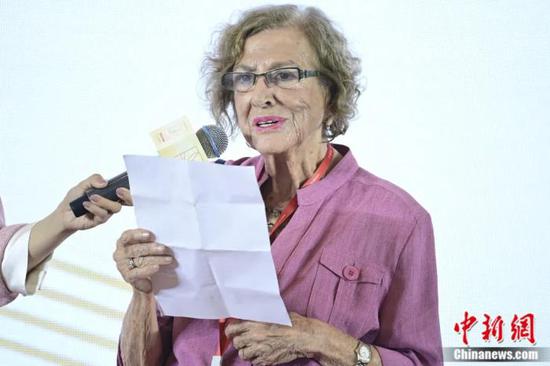 On September 8, at the first Orchid Awards Ceremony, Flora Botton was honored with "Friendship Envoy Award". (Photo: China News Service/ Tian Yuhao)
By Han Yu, Xu Xueying & Wang Zonghan from CNS
Flora Botton Beja, 90 years old, the founder and leader of Sinology in Mexico and even Latin America, has been engaged in China studies for 60 years and has students all over Latin America. She is now a professor at the Center for Asian and African Studies at the College of Mexico. On September 8, at the first Orchid Awards Ceremony, Flora Botton was honored with "Friendship Envoy Award".
In a recent exclusive interview with "W.E. Talk" of China News Service, Flora Botton told the story of her connection with China and looked back on the history of cultural communication between China and Mexico. She believes that China has a completed traditional culture system, which must be understood in order to understand China's present and pasts as a whole.
Here are excerpts from the interview:
CNS: In the early 1960s, you participated in the UNESCO Major Project on Mutual Appreciation of Eastern and Western Cultural Values. The research project involved many countries in Asia. Why did you finally choose China as your research subject?
Flora Botton: In 1963, I received a UNESCO scholarship to study for a master's degree in Oriental Studies at the the College of Mexico, that was when I became associated with Chinese culture. Indeed, I could have chosen India, Japan, the Middle East, etc., but I chose China as my research object. I have never regretted my choice.
My interest in China originated when I was a child. I read a lot of novels on China when I was a kid. There was an American writer who has been very famous since the 1930s, named Pearl S. Buck. As a daughter of an American missionary, she grew up in China, understood Chinese very well, and described Chinese rural life based on what she saw and heard. Her most famous novel, The Good Earth, I have read it in French. Since then, I have been concerned about those people living far away. They are so different and fascinating. I realized that the lives of Chinese women were once very difficult and oppressed, and that China's revolution was crucial to changing the destiny of Chinese women.
At the beginning, I didn't know much about China. I only knew that many people had written about China, that revolution was a crucial means of solving of China's problems, and that I admired the Chinese revolution and Mao Zedong's role in it.
When I started studying China, I discovered that this country has a complete traditional culture system. I thought that one way to let the world understand China is to let the world understand Chinese traditional culture. After that, I started researching Chinese history, thinking about pre-modern issues in China, and taught Chinese philosophy for many years.
CNS: From 1981 to 1987, you served as the editor-in-chief of Estudios de Asia y África. During this period, you devoted yourself to the translation of Chinese classic. How did you do those translation work?
Flora Botton: In the 1980s, there were almost no direct translations of Chinese classical works in Mexico. Some were translated by Catholic missionaries, but they were influenced by Christian ideology to some extent and were different from the original text. I successively translated Mencius, Xunzi, Mozi and some Tang stories. These translations made Mexicans and many people in other Spanish-speaking countries interested in Chinese traditional literature.
Translating Chinese classical works was a lot of difficulty. You need to look up a dictionary and read a lot of sources. There are also many works written about the terminology, putting it a in a his own perspective, to figure out what did one word mean in during the Zhou dynasty. So I had to read a lot of materials, compare various translations, and try the best I can to put the meaning nearest to what I suppose it should have been. Although no one of us can know of Confucius's original meaning 100%, we can learn about it through his disciples, through other people's evaluations or comments of him.
CNS: In 1978, you were appointed as the cultural counselor of the Mexican Embassy in China. In 2020, at the opening ceremony of the 5th International Symposium on Chinese Language Teaching in Mexico, you received the Special Contribution Award from the Mexican Academy. Do you remember working in China? How do you witness the progress of cultural communication between China and Mexico?
Flora Botton: It was a very special time to be in China. I also visited several schools for a project on education. I got involved in the cultural scene of Beijng which was extremely lively with old plays being revived and old and new forms of art appearing and wrote long reports to the Ministry of Foreign Affairs about all of this. It was fantastic.
45 years ago, cultural communication between China and Mexico was very little. Mexicans knew very little about China. The government was only interested in developing trade and did not know much about other fields. So in my university, we had the privilege of having the establishment of a program, it was called "oriental studies". No, we don't talk about "the orient", we talk about "Asia", because "the orient" is a European idea.
So this program gave us the opportunity to be the first to be trained. I was trained in this program, then went to England, the United States,et cetera, To learn more. I came back and started teaching. We had people who came from all Latin America to learn the language and to learn about Asia. And in Chinese studies, we trained quite a few people from all over Latin America and they even came from Spain, because in Spain there was no program yet on Chinese studies.
So what happened was that we sort of sent a light. I make a comparison, like the Chinese monks who went to India to study about Buddhism, then came back and taught about Buddhism. We did something like that. We taught people about China, they went back to their countries and started programs all over Latin America.
CNS: It has been more than fifty years since you started teaching Chinese. What do you expect about cultural communication and mutual learning between China and Mexico in the future?
Flora Botton: Mexico and China have established diplomatic relations for more than 50 years. I am happy to say that Mexico and China have a lot of communication in all aspects, whether it is economic relations, political relations, or academic relations. Exchange students, scholarship establishment, visiting scholars, travel, language learning... all kinds of communications.
In ancient times, "sinologists" were scholars who spread Chinese culture by learning and translating Chinese. They specialized in the study of traditional Chinese culture. And now the term is widely used for any scholar who studies China, even contemporary China.
Nowadays, many people want to learn Chinese, travel to China, and read articles about China. My students in Mexico teach Chinese culture at different universities, and most of them are studying contemporary China. My role is to study contemporary China from the perspective of traditional China.
China has a complete traditional culture system, which must be understood in order to understand what is happening in China now. One of the distinctive characters of Chinese civilization is its continuity.
I was born in Greece. Now Greece belongs to the western civilization,but modern Greece does not have much to do with ancient Greece. In the Middle East, for example, there were Babylonia and Assyria, right now the modern countries don't inherit the cultural system. The situation is different in China. In China you can see the same writing, same characters, the same people, the same traditions which are still somehow alive. The continuity of civilization is the wonder of China. It is for this reason that, as mentioned earlier, I study both traditional China and contemporary Chinese society.