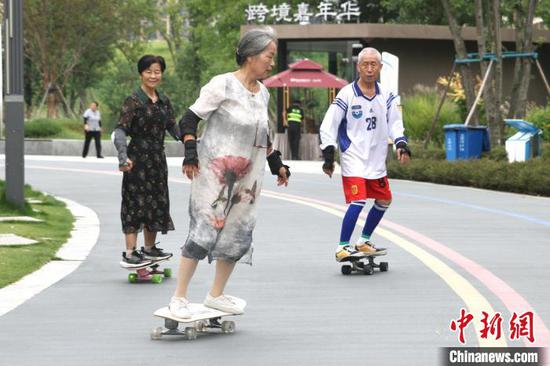 70-year-old Wang Jinrong (L), 66-year-old Liu Cuilian (C), and 85-year-old Li Mingqin ride surfskate together in Chengdu, Sichuan Province, Aug.24, 2023. (Photo: China News Service/Wang Liwen)
(ECNS) -- Li Mingqin, 85, and a group of elderly surf skaters in Chengdu, southwest China's Sichuan province, have made online waves thanks to their mesmerizing agility.
"Age has never been a problem when it comes to sports," Li told China News Network.
Surf skating, originating in the 20th century in the United States, is an extreme sport that involves using specially designed skateboards to simulate surfing on streets.
Starting practice at the age of 84, Li has caused concerns among his friends about the safety of this seemingly youth-oriented activity. But in Li's eyes, surf skating is not dangerous, since over the past two decades, he has maintained peak health.
"In recent years, more public fitness facilities have sprung up across Chengdu. Having so much energy for exercise in my senior years makes me feel incredibly happy," Li said.
He believes that seniors should have a sense of urgency about time, pursue their passions and enjoy life. "I want to try a surfboard someday," he said.
Through surf skating, Li has met like-minded companions. For 66-year-old Liu Cuilian, her initial experience with land surf skating is still vivid in her memory.
She took the opportunity while her daughter was traveling and stepped onto the land surfing skateboard at home. "The moment I stood on the board, I fell in love with the sport."
Liu Cuilian said that age is just a number for her and doesn't signify anything.
"I've never felt old, and during exercise, I even forget about my age. Chengdu has a great atmosphere for physical activity, and I hope to use this vitality to inspire more people," she said.