(ECNS)-- After traveling some 2,500 km, 40 Tibetan kids from a welfare home on the around 4,500-meter-high Qinghai-Tibet Plateau finally set foot on China's top-level football stadium in Beijing on June 2.
The 40 kids, with the oldest at 16 and the youngest at 7, came from Yushu Tibetan Autonomous Prefecture, northwest China's Qinghai Province. This was the first time they had visited Beijing. Some of them had never left their hometown before.
Among them, there were many football lovers.
On Friday night, these kids showed up at the Beijing Workers' Stadium, one of the most prestigious stadiums in China, which hosted events related to the 1990 Asian Games and the 2008 Olympic Games.
A boy named A Bin, nicknamed the "C. Ronaldo of Yushu," and five of his friends served as escorts during a game of the Chinese Football Association Super League. Nearly 50,000 fans in the stadium cheered to welcome these 40 special guests.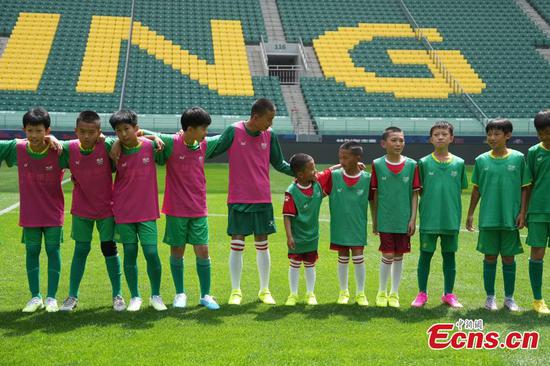 Kids from a welfare home in Yushu Tibetan Autonomous Prefecture, northwest China's Qinghai Province, meet their peers from the Beijing Guoan football Youth Team at the new Workers' Stadium in Beijing, June 1, 2023. (Photo by Cui Nan/China News Service)
During their journey, they also participated in many activities on ethnic culture.
At an experience hall on the culture and history of Chinese ethnic groups on the former site of the National Mongolian and Tibetan school, Zangba Cicheng, a boy who enjoys history classes, said that learning history is the best way to understand the country and the nation.
While watching the performance of the China Ethnic Song and Dance Ensemble, Dolma Tso, a 13-year-old girl, said that the musical instruments of different ethnic groups have their own characteristics, but produce a very imposing and pleasant sound when played together.
The 40 children stayed in Beijing for five days.
The Palace Museum, the Great Wall, the Bird's Nest, the Water Cube (the National Aquatics Center)... the places these Tibetan kids have toured are epitomes of not only the history of ancient China but also the pulse of modern China.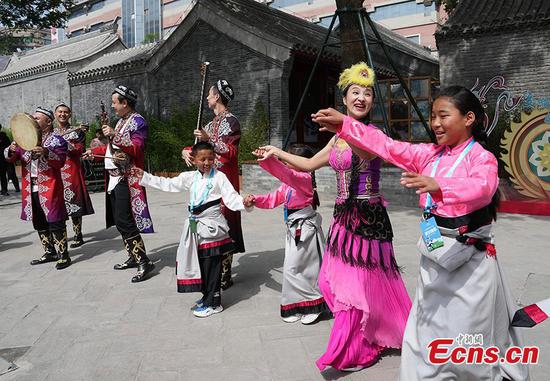 Children from Tibetan Autonomous Prefecture of Yushu, northwest China's Qinghai Province, learn how to perform at an ethnic museum in Beijing, June 1, 2023. (Photo: China News Service/ Cui Nan)
"Through this special program during Children's Day, we hope to warmly welcome the kids so that they will have hope in their eyes and dreams in their hearts. We hope they will have more unforgettable childhood memories and a more promising future," said Yu Lan, deputy editor-in-chief of China News Service and president of China News Network, the agency's official website.