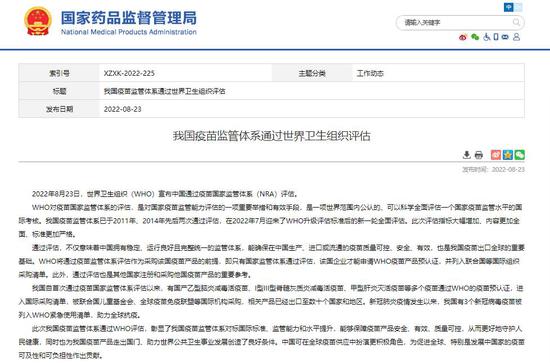 Screenshot from the NMPA official website.
(ECNS) -- The World Health Organization (WHO) on Tuesday ranked China's vaccine regulatory system at a functional level of maturity, according to WHO's global classification system for national medical products regulatory authorities.
This means China has a stable, well-functioning and integrated regulatory system to ensure the quality, safety, and effectiveness of vaccines that are manufactured, imported or distributed in the country, said WHO in its announcement released on the same day.
According to China's National Medical Products Administration (NMPA), a country must pass the WHO assessment of its vaccine regulatory system before it can supply safe vaccine products for the world.
China's vaccine regulatory system met WHO's evaluation standards in 2011 and 2014 respectively, and this new round of assessment in July 2022 is stricter than before, with more indicators and comprehensive contents, said NMPA.
Several Chinese vaccines for Japanese encephalitis, poliomyelitis, hepatitis A, and other diseases have been pre-certified by WHO and included in the global procurement list, and exported to tens of countries and regions.
Moreover, three COVID-19 vaccines from China have been included in the WHO list for emergency use since the pandemic outbreak.