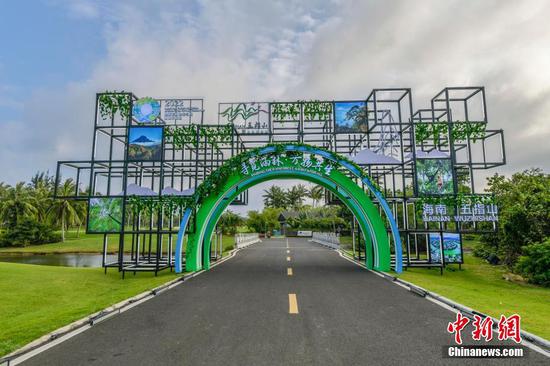 The "Finding the Rainforest, A Haven for All" Exhibition opened to the public as the BFA 2022 Annual Conference kicked off on April 20. (Photo/China News Service)
(ECNS)-- A cup of zero-carbon coffee is catching eyes at the Boao Forum for Asia 2022 that kicked off on Wednesday in Boao, a coastal town in China's southernmost province of Hainan.
"The coffee comes from Limu Mountain in the center of Hainan Island. No pesticides or fertilizers are used during planting, nor agricultural machinery. The roasting is also carried out in a low-carbon way to reduce carbon emissions," a staff member said.
Zero-carbon coffee coincides with the green development concept of the BFA annual conference this year.
The Boao Forum for Asia hotel made a deal with photovoltaic enterprises, realizing green electricity in all venues. This is the first green power transaction in Hainan, with 1 million kWh of electricity sold to meet 100 percent of the green power demand of the BFA 2022 Annual Conference. Moreover, more than half of the service vehicles are new energy vehicles, ensuring low carbon emissions at the event.
Alongside the conference, a rainforest culture exhibition opened to the public at the BFA Theme Park.
The exhibition presents a snippet of the Hainan Tropical Rainforest National Park by providing various angles for visitors to experience, including the cultures of the Li and Miao ethnic minority groups, and an intimate glance into the local communities inhabiting the rainforests through nine themed gardens.
The Hainan Tropical Rainforest Park boasts the best-preserved tropical rainforest in China, being the country's largest contiguous area of rainforest, and has become an important part of the world's tropical rainforest habitats.
Green development is a hot topic at the annual meeting. The forum seeks to provide suggestions for promoting green and sustainable development in Asia and the world.
Climate change is a major risk faced by the world, and shaping a green and low-carbon development model is a major issue faced by all countries to achieve sustainable development, said Li Baodong, Secretary-General of the Boao Forum for Asia.
He said that there is still a long way to go to tackle climate change and control the raging pandemic, which requires extensive global participation and joint action.
By the end of 2021, 25 Asian countries had made net-zero pledges, said the BFA's "Sustainable Development: Asia and the World Annual Report 2022" released by the BFA Wednesday.
Aiming to enhance green governance, governments in Asian countries have taken measures including setting up high-level leading groups and committees overseeing the formulation and implementation of national net-zero strategies, defining decarbonization goals and drawing up roadmaps to meet these targets, as well as establishing carbon emission trading systems, according to the report.
Capital market solutions for green finance have also been developed in Asia, it said, highlighting the tightened regulatory requirements, standard-setting, and the role of multilateral development banks in promoting green finance.