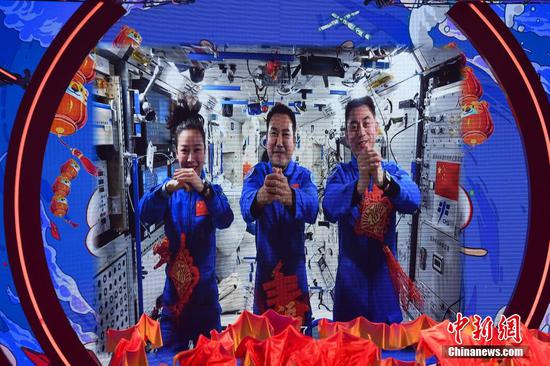 Shenzhou 13 crew give Spring Festival wishes to overseas Chinese on January 22, 2022. (Photo/China News Service)
(ECNS) -- China's Shenzhou 13 crew are halfway through their six-month space journey, which started on Oct. 16, 2021.
ZhaiZhigang, Wang Yaping and Ye Guangfu have completed a series of science and technology experiments insideTiangong space station and are now more adapted to their environment.
Their routine work includes preparing food, organizing waste, cleaning the space station, etc.
For example, the air cleaning system in the space station to dispose harmful gases in the air must be cleaned with a vacuum, otherwise, the dust may influence the operation of the space station and do harm to the astronauts.
Crew members must classify kitchen waste, for instance, food should be put into special bags, and wet waste recycled. In space, food residues or water droplets suspended in the air may suffocate astronauts and even endanger their lives once inhaled.
Waste tissue and plastic bags in the station are compressed in order to save room since garbage is taken to Earth a year later, and to prevent bacteria from polluting the space station environment.
In addition, astronauts also pay attention to their self-image. They had haircuts not long before. They used a vacuum hair clipper to clean the hair and water droplets produced during the process to evade possible instrument malfunction.
What's more, they can read books, listen to music, watch TV series and have phone calls with their families in their spare time.