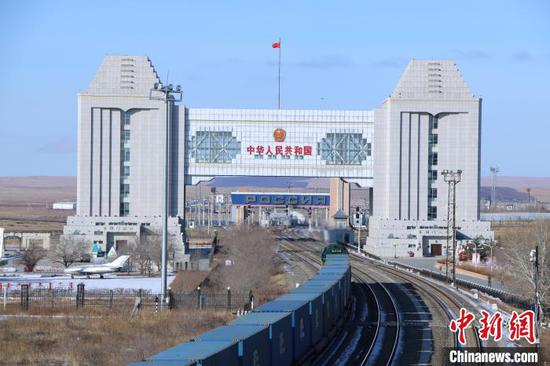 A China-Europe freight train departs China. (Photo/China News Service)
(ECNS) -- Inbound and outbound China-Europe freight trains operated by Manzhouli and Suifenhe ports, the eastern corridor in north China's Heilongjiang, have exceeded 15,000, according to the China Railway Harbin Group on Tuesday.
As an important part of the Belt and Road Initiative (BRI), China-Europe freight trains feature high efficiency, expansive routes and all-weather services and have established a vital logistics passage for trade between China and Europe, and international anti-pandemic supplies transportation.
In 2021, China-Europe freight trains on the eastern corridor accounted for one-third of the total number of China-Europe trains in China, among which those passing through Manzhouli Station exceeded 4,000 for the first time in the year, up 18.4 percent year-on-year, while that through Suifenhe Station first exceeded 500 in the year, a 153 percent year-on-year increase.
At present, there are 21 inbound and outbound China-Europe fright routes through Manzhouli and Suifenhe ports, reaching 13 European countries.
The main cargo collection areas have covered 60 cities in the southeast coastal areas of China. These routes see the transport of a wide range of goods like daily necessities, electrical appliances, industrial machinery, metals, agricultural and sideline products.
Now, railway authorities are speeding up the expansion project for Manzhouli Station, and enhancing coordination and communication with railway departments of countries along these routes to guarantee a smooth link among ports, shifts operation and information exchanges against the backdrop of COVID-19.