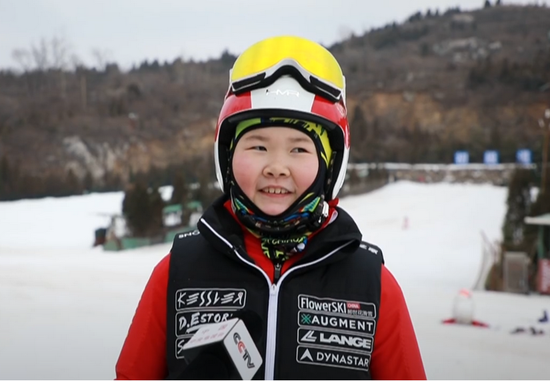 Photo shows eight-year-old Wang Yibing. (Screenshot from CGTN)
(ECNS) -- An eight-year-old girl from east China's Shandong Province has won multiple national junior skiing titles and hopes to attend the Winter Olympics in the future.
Wang Yibing started skiing when she was five and fell in love with the sport.
Supported by her parents, she stayed in Chongli, Zhangjiakou of Hebei Province, for five months in 2021, and practiced skiing six to seven hours every day.
The temperature in Chongli sometimes fell to minus 40 degrees Celsius, but it didn't dampen Wang's enthusiasm.
"I can bear the cold weather, but the winter wind is hard to put up with," the girl said.
Her dad Wang Lei said that skiing is not only fun for her, but it also makes her stronger and more resilient.
"It is very dreary to keep repeating the same movement. I told her that she could give up, but she said no," said the father.
Wang Yibing gradually left her peers behind and won five championships in national junior skiing competitions with the help of her coach.
Some of the events in the coming 2022 Winter Olympic Games will take place in Chongli, and Wang is looking forward to watching the world's top athletes compete.
"I'm not doing as well as they do right now, but I may surpass them if I train hard enough," she said. "When I'm good enough, I will be able to compete in the Winter Olympics. I want to be the champion of the women's alpine skiing event."