Dec. 28, 2021
By Sha Hanting, China News Service
(ECNS)-- Michael A. Szonyi is Director of the Fairbank Center for Chinese Studies and Professor of Chinese History at Harvard University. He is a well-known social historian of late imperial and modern China. As a teenager, Szonyi went to China in the 1980s to teach English and stayed there for several months. This accidental experience got him interested in China. Then he began to learn Chinese and eventually decided to pursue a career in Chinese studies.
In this exclusive interview with China News Service, Michael Szonyi looked back upon his relationshipwith China and shared his thoughts about China and the world. Szonyi didn't agree with Huntington's clash of civilization notion. He argued east and west shared more similarities than differences. "What we share as human beings vastly exceeds what distinguish us, what differentiate us because of where we happen to be born," he said.
Here's the excerpt of the dialogue.
Sha Hanting: As a Canadian, how did you develop interest in China in the first place and decide to pursue a career in Chinese studies?
Michael Szonyi: I first became interested in China in the early 80s when I was just a teenager. I was looking for an opportunity after I finished high school to do something more interesting than go directly to university. I sent literally hundreds of letters to look for something interesting in a foreign country. To my good fortune, I got a job teaching English in Wuhan, China, so I traveled there at the age of 17 and lived there for several months. It was just the beginning of Opening up and Reform. There was such extraordinary eruption of energy at that time. It was no wonder I became enchanted.At that time, I didn't know any Chinese, but somehow I was able to travel all over China through different kinds of transportation, hiking, hitch hiking and sometimes on the back of trucks. Just a fascinating time and I became very interested in watching this country develop and transform. When I returned to Canada to go to university, I started to study Chinese and eventually decided to be a China historian.
It was never a deliberate plan to pursue a career in Chinese studies. I was just extraordinarily lucky that I became interested in China in an interesting time and opportunities really grew from there.
Sha Hanting: In a previous interview, you mentioned the most intellectual experience you had during your PhD years was to gather materials in Fujian, China. Can you share the experience with us and explain why it was that important?
Michael Szonyi: To gather materials, I went to a village in Fujian and briefly lived in the ancestral hall, and later with a peasant family. From a professional perspective, this experience made me realize how important it is to go to the places where history actually happened. Historians usually do the work in the library or in the archives, if we return to the places where history actually happened, we got a very different understanding of how history really developed and that really guided my historical work ever since.
At a personal level, if you live in the village, eat with villagers and share evenings with them, inevitably you learn a great deal just through casual conversations with them about their concerns, their interests, challenges they face and so forth. It had a profound influence on me as an individual, deepened my interest in China both historical and contemporary. It was truly an unforgettable phase of my life.
Sha Hanting: You said when studying a historical problem, you like to use micro-historical experience in order to explore macro-historical questions. In your view, what are the characteristics of Chinese people historically? How are they different from western people?
Michael Szonyi: Most histories were told from perspectives of elites or states. We get a very different sense of history from sources of ordinary people. This has always motivated me to work micro historical approach. The essence of history is making sense of how people made decisions in a different context from the context we live in and get aware of the differences. When we think about it in that way, I don't really see much historical difference. I think people in our two societies above all shared a humanity. This is why history is interesting. When we read about people living in China long ago, when people in China read about people living in Europe long ago, when we read about people who live in a different society today we can actually see the similarities.
My most recent book is a study of Ming dynasty. Military households (Jun Hu) had to supply a soldier to serve in the army. Not everyone had to be a soldier but every household had to supply a soldier. This created of all kinds of uncertainty and risks. We can think of military services as a kind of tax. People on the Hu were willing to pay the tax but they wanted to reduce uncertainty and risk. They wanted the allocation of tax to be fair. I think that's pretty much how I think about tax. I don't want to pay more tax than I have to and I want tax to be fair and I want to know how much tax I need to pay. Now the tax I pay to the US government is very different than the service the soldiers provide to Ming dynasty Yongle period of China, but I think the way they tackled their problems, the way they thought about their problems are very similar to me. We may bring different language or different tools we can use to address these problems, but ultimately these problems are the same problems.
Both our civilizations, societies are shaped by tradition, but the way tradition shaped our lives and affected our choices are not done automatically. Our choices are not dictated by the inheritance of tradition. I keep coming back to this basic point that what we share as human beings vastly exceeds what distinguish us, what differentiate us because of where we happen to be born.
Sha Hanting: Harvard political scientist Samuel Huntington argued that the clash of civilization would be the primary source of conflict.Do you believe there is a clash of civilization between the east and west? How to deepen understanding between different civilizations?
Michael Szonyi: Simple answer no. I think the notion of clash of civilization is meaningless. With due respect to Professor Huntington who was a great scholar. I think that whole idea rests on a fundamental misunderstanding of how society works. There is conflict in human societies to be sure, but any idea that civilizations want different things, the evidence is simply not there. For one thing, civilizations don't speak or act with a common voice. Huntington identified a number of clashes. One was the clash between Islam and the west. There is certainly tension between certain groups of Islamic people and the United States but I don't think you can say every Muslim in the world is in conflict with the values of the United States.
In a sense what I have devoted my professional life to doing is to help improve understanding of China in the US and English speaking world. I work at Harvard with very bright students and all these different types of students are able to gain a strong understanding of China which proves there are no fundamental obstacles to understanding. But I give you a very optimistic account of human nature. Part of the story is people also are afraid of things they don't know well and sometimes have negative reactions. But I believe when people meet they figure things out. I'm a great advocate and supporter in people to people diplomacy.
I work with young people. One thing I encourage them to do is to go to China so they will get a better understanding of China and Chinese people. Another thing is if they go to China and then return to America and decades later become leaders in business, politics, media, that kind of experience is what I hope will allow us to avoid the continuing deterioration of relationships. Person-to-Person relationships are valuable in the present but essential for development in the future.
Sha Hanting: Being a prestigious China expert, John Fairbank played a critical role of educating American public about China back then. As the leading Chinese studies center in the world, what kind of role Fairbank Center will play in deepening understanding between the US and China?
Michael Szonyi: We can work with experts in various fields, in corporate sector, tech sector, help them better understand the situation in China. At this moment, our most important role is to persuade government that students seeking knowledge is a good thing. Whatever happens to the US-China relations knowing more about China is good for America and knowing more about America is good for China. Second role we play is as neutral, scientific and objective observers of the other society. I think this applies to both sides. When American scholars talk about China, they do so not on behalf of the government. They do so based on their scholarship, based on what they think is right. I think this really needs to be understood on both sides. It worries me a great deal right now that we faced in the academic community like Fairbank center and many other Chinese studies centers around America. Many people in China feel we represent American government' interests. What makes this especially difficult is now many people in the US think we have been influenced or penetrated by the Chinese government, so what we are doing is actually representing Chinese views.
Sha Hanting: As we all know, US-China relations are at a critical moment now. This year, the US rejected hundreds of Chinese students' visa, including incoming Harvard students. What is your opinion about this?
Michael Szonyi: We are at a very critical moment for education in both countries. Educational exchanges have been disrupted on both sides that China is primarily because of its ways responding to Covid, the US for the security reasons. It is obviotthat the US needs to do a better job of managing intellectual property and sensitive technologies. To me it is also obvious they are doing it the wrong way right now. Targeting Chinese visitors because they're Chinese, because of their connection to the communist party, because of their past experience, that's the wrong way to do it.
We want relations between our two countries to improve. We have common interets in climate change andeconomic prosperity for all. We have to figure out ways to improve the relationship and I believe education certainly has a role to play.
Biography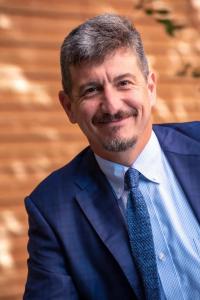 Michael Szonyi
Michael Szonyi is Director of the Fairbank Center for Chinese Studies and Frank Wen-Hsiung Wu Memorial Professor of Chinese History at Harvard University. He is a social historian of late imperial and modern China who studies local society in southeast China using a combination of traditional textual sources and ethnographic-style fieldwork. He has written, translated or edited seven books, including The Art of Being Governed: Everyday Politics in Late Imperial China (2017); A Companion to Chinese History (2017), Cold War Island: Quemoy on the Front Line (2008; Chinese edition 2016) and Practicing Kinship (2002). He is also co-editor, with Jennifer Rudolph, of The China Questions: Critical Insights on a Rising Power (2018).
Szonyi received his BA from the University of Toronto and his D.Phil from Oxford University, where he was a Rhodes Scholar. He has also studied at Taiwan University and Xiamen University. Prior to coming to Harvard in 2005, Prof. Szonyi taught at McGill University and University of Toronto.