(ECNS) -- Experts attending the International Finance Forum (IFF) 2021 Annual Meeting held in Guangzhou City, South China's Guangdong Province, on Sunday agreed that stable growth remains key to China's economy and that the country is set to open up further.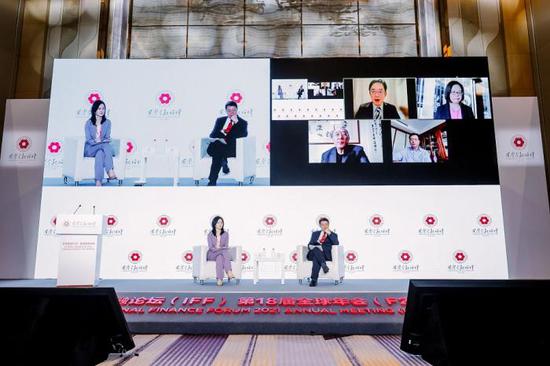 Yu Lan, president of China News Service, attended the IFF 2021 Annual Meeting on Sunday. (Photo provided by IFF)
China's reliance on foreign trade or export will decline as the government shifts focus to ramping up domestic consumption, said Huang Qifan, chairman of IFF Academic Committee.
"Internal circulation" will be boosted to form an industrial system in China, which will be more resilient, more quality-beneficial and safer," added Huang.
In the future, China will put equal emphasis on inbound foreign funds and outbound investment, on promoting both export and import, and on coordinated development of coastal and inland areas, along with overall opening-up to the west and east, Huang noted.
What matters most for China is to take precautions against major risks while facing downward pressures; emphasis should be placed on the overlap between weaknesses and risks of development; the "dual circulation" development pattern must be promoted to capitalize on economy and trade, said Yu Lan, president of China News Network.
The importance of retaining steady growth will further increase as structural adjustment, promotion of upgrading, as well as risk prevention go unchanged.
Their views were echoed by Chen Xingdong, chief economist of BNP Paribas.
Statistics from the National Bureau of Statistics showed China's year-on-year GDP growth rates in the first, second and third quarters were 18.3 percent, 7.9 percent and 4.9 percent, respectively.
China's boosting its economy in multiple aspects, including policies against the relapse of the COVID-19 pandemic, according to Chen.
In terms of future trends in China's economy, Sino-U.S. relations will always play a critical role, said Zheng Zhijie, former president of China Development Bank.
Zheng pointed out that infrastructure expansion projects and modernization plans in the U.S. can provide opportunities for cooperation between the two major economies, therefore promoting stability and prosperity of the global market.
The International Finance Forum is an independent, non-profit, non-governmental international organization founded in Beijing in October 2003.
The IFF 2021 Annual Meeting (F20 Summit) wrapped up on Sunday.