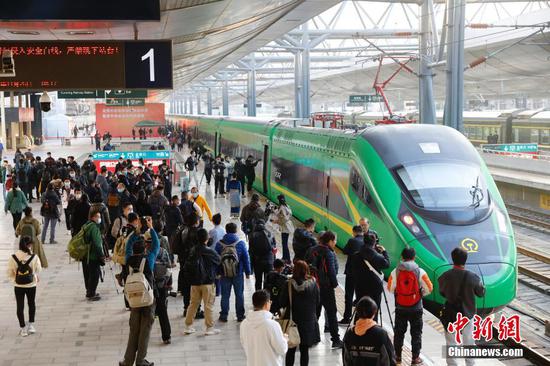 Passengers wait for the train at the Kunming Station, Nov. 26 in a test run. (Photo/China News Service)
(ECNS) -- Tickets for Yuxi-Mohan Railway in Yunnan Province, the Chinese section of China-Laos Railway, went on sale Thursday, according to China Railway Kunming Group.
The highest fare from Kunming, Yunnan's capital to Mohan, a border town between China and Laos, is 271 yuan (about $ 42.54) and the lowest, 244 yuan.
A total of 17.5 pairs of CR200J Fuxing EMU trains will run on the railway as planned during the early stages of operation.
It takes about three and a half hours from Kunming to Xishuangbanna Dai Autonomous Prefecture and less than three hours to Puer, ending the history of no rail services between Puer and Xishuangbanna.
The Chinese section of the railway adopts a floating price mechanism, allowing passengers a discount of 9 to 9.5 percent according to market demands.