(ECNS) -- The ivory shovel dating back 99,000 years and unearthed in east China's Shandong Province may be the earliest polished bone tool discovered in China, according to a researcher at the Archaeological Institute of Shandong Province.
The ivory shovel was unearthed from a paleolithic site at Yishui in northern Linyi in May.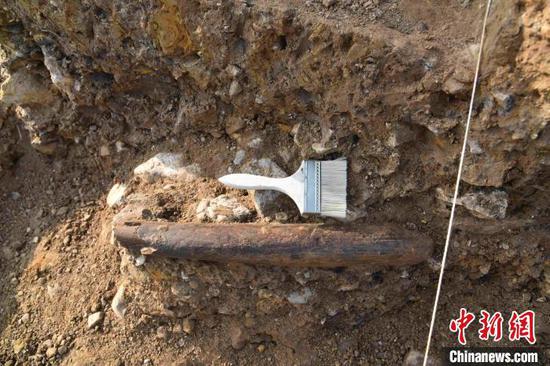 The ivory shovel unearthed from the paleolithic site. (Photo: Archaeological Institute of Shandong Province/Li Gang)
"Via uranium-uranium dating, we determined the ivory shovel was made 99,000 years ago," said Li Gang, associate researcher at the archaeological institute, on Wednesday.
It is rare to discover a tool made of ivory nearly 100 thousand years old anywhere, he added.
In Li's view, the abundant historical remains left by ancient humans excavated from the Yishui paleolithic site are of great significance in researching the production modes, lifestyles, and living conditions of ancient humans.
The paleolithic site was granted excavation rights by National Cultural Heritage Administration in April. To date, more than five thousand fossils and tools have been discovered in eight cultural layers.