Special: W.E. Talk
(ECNS)-- Shaun Rein, founder and managing director of China Market Research Group (CMR), is probably one of the most knowledgeable Americans about China.The 44-year-old has lived and worked in China for half of his life.
Over the past decade, he has, more than once, successfully predicted major changes and transitions in the Chinese market. Rein authored several international bestsellers including "The End of Cheap China" and "The End of Copycat China".
During the 2nd China-U.S. Economic and Trade Forum held by Western Returned Scholars Association, Pang Wuji, director of the macro-economy editorial sector of the Economic Department of China News Service, talks to Rein. Rein believes that after the end of cheap China and copycat China, a new change is coming, and that is caused by pushing common prosperity.
"China is not just aiming to make one in ten people rich, but to make sure that 90 percent of the people can be rich", Rein said, by that time, the business and economy will be more developed, which means more opportunities and a more-leveled playing field for multinational companies, including U.S. companies.
Here's an excerpt of the dialogue: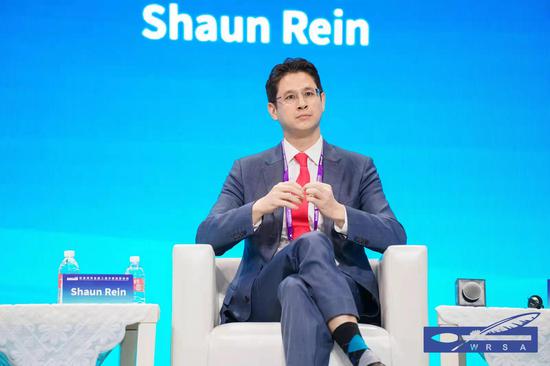 Shaun Rein (Photo/China News Service)
Pang Wuji:You've written several international bestsellers about China. In your eyes, how has the Chinese market actually changed over the years?
Shaun Rein: In 2011, I wrote "The End of Cheap China". In this book, I pointed out that multinational companies should stop seeing China as just the manufacturing hub, but the place to sell into. The cost of doing business in China has gone up due to rising cost for labors, but at the same time, Chinese people's incomes have risen, making China one of the world's largest consumer markets.
When I wrote this book, most of the U.S. media, including the Wall Street Journal, said I was wrong, but over the years, my views have been proved to be so true.
Another book, "The End of Copycat China," says that China will become the most innovative country in the world. China used to focus on innovation in business models, but in the future it will move to the the actual technological innovation.
Ten years ago, there was no need (for Chinese companies) to do this because they could be worth tens of billions of dollars just by acquiring existing technology from world markets like the U.S. But now, we can see Chinese innovation in artificial intelligence, robotics, and quantum computers. The quantum computer developed by Pan Jianwei's team is much faster than Google.
My books are the best track records of the Chinese economy in the last 20 years. Now I am interested in common prosperity. Many foreigners don't understand or even fear common prosperity. In fact, common prosperity is helping low-income groups to build up the class, not trying to destroy capitalism.
Pang Wuji: What new opportunities do you think China's attempt to achieve common prosperity can bring to multinational companies?
Shaun Rein: Regionally, after the reform and opening up in 1979, first-tier cities such as Beijing, Shanghai and Shenzhen benefited more. If a person comes from Beijing, they have better chance to get into the best schools such as Peking and TsinghuaUniversity,but if they come from Anhui, Henan province, etc., it would be much more difficult, which is unfair. So common prosperity means, first of all, that it is not just the first- and second-tier cities, but that it can benefit more cities.
Back in 2010, I interviewed consumers in many cities in China, and at that time their biggest concernswere corruption and pollution. And in 2021, when I do the interviews again, the biggest issues were no longer pollution and corruption - those two areas had improved greatly, and people were now more concerned about housing, education and health care. That's exactly what common prosperity is trying to solve.
The Chinese government wants to make common prosperity a reality for everyone.It's not just for one in ten people, but to make sure that 90 percent of the population get rich, a time when business and the economy in both the United States and China are more developed and the playing field is more level.
I hope U.S. companies can go deeper into the third-, fourth- and fifth-tier cities in China, because there will be greater possibilities there in the future. I think better opportunities lie in many areas, such as: sports and health, smart manufacturing, tourism, etc. During the pandemic, the city Sanyabecame a popular tourist destination. China's high-speed railway system and other transportation options can further boost domestic tourism.Now people no longer complain about the poor infrastructure facilities such as hotels, bathrooms and roads in China. Everything is getting better.
Pang Wuji: What do you think of the economic and trade relations between the U.S. and China, are they reciprocal?
Shaun Rein: The prosperity of the American middle class owes a lot to Chinese workers. Without China, the U.S. would have been a much poorer country over the past 30 years, and it is unlikely that so many middle-class people could afford products like Apple and Nike.
China's also benefited. China was very poor until the economic reforms in the late 1970s. It would not have the beginnings of such robust economy that provides a lot of jobs without foreign capitals and investment, many of which came from the United States.
There is no doubt that both countries benefited from trade and cooperation. When the two countries work together, Americans and Chinese are better off.
But the Trump administration has screwed up that partnership by launching economic sanctions to attack China and by leaving many negative impressions about China in the minds of the American people.
But none of what they say is true. The truth is that China out-competed the United States (in some areas) by having low-cost but well-trained labor pool, good roads, ports, railroads and other infrastructure. Some U.S. politicians were looking to scapegoat somebody and they scapegoat to China, when the reality is the problem started with American's leadership, the business community.
Pang Wuji: What do you think is the biggest misunderstanding and misjudgment that some people in the United States have about China?
Shaun Rein:They don't understand how much support the Chinese government has among the people. This is not because the Chinese people have been "brainwashed," but because the Chinese government has done a good job of improving and implementing policies that have created good jobs and economic opportunities, and therefore has extensive support.
Secondly, some of the U.S. leadership is biased and discriminatory. For the past 70 years or so, the United States has been the most powerful country in the world. Moreover, the U.S. is military. Now along with the development and rise of China, some fear that China's power will weaken America, and this scares them.
Pang Wuji: In what areas do you think China and the U.S. can deepen cooperation, and promote the normalization of bilateral relations?
Shaun Rein: One is in the field of environment; the other is in the field of trade and investment.
Everybody can agree that the environment is important. If you look at it 10 years ago, the pollution in China is terrible. It's much better now. The world should be looking at what China is doing on the the waste reduction, on alleviating air pollution and water pollution. In this area China and the U.S. can find common ground, and try to cooperate.
As for the field of trade and investment, the U.S. business community currently does not see China as a threat, but as an opportunity, which is a breakthrough for U.S.-China cooperation. Closer economic ties reduce the chances of military conflict. It is important for China to continue to roll out the "red carpet" for U.S. business investment.