(ECNS) -- Beijing will promote itself as a pedestrian- and bike-friendly city by 2035, according to Beijing Daily, citing draft plans released by local authorities.
According to official data, around 17.2 percent of people in Beijing choose to commute by bike, and around 31.5 percent on foot. In addition, the commuting efficiency of the second ring road has increased by 25 percent, with more than four million people choosing to commute by bike via bicycle roads as of September.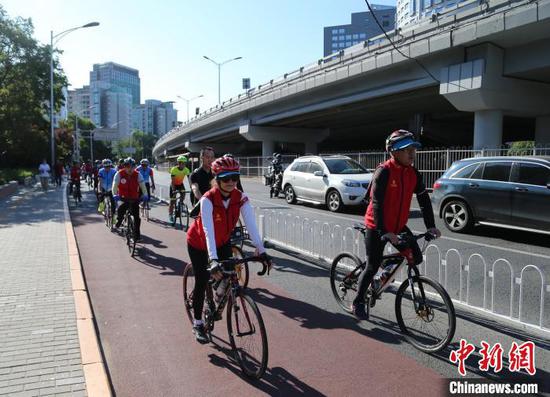 People ride bikes on a bike road in Beijing. (Photo provided by Beijing Municipal Commission of Transport)
Apart from Chang'an Avenue, dubbed the "Coolest Biking Road", more pedestrian- and bike-friendly roads will be built, with efforts being taken to optimize traffic, renovate greening and landscape projects.
A to-be-built 42-kilometer road starting south of Olympic Forest Park and ending north at Changping Apple Theme Park will not only dilute traffic congestion, but offer a better travel experience.
The pedestrian-bike system is consistent with city development, with such creative measures applicable across the entire Beijing, according to the draft plans.