(ECNS) -- Newly launched Universal Beijing Resort was one of the most popular tourist destinations during the National Day holidays, according to data released by multiple tourism platforms.
IP city tourism is the most attractive across the country, with Beijing exceeding Shanghai to become the hottest spot, according to reports released Thursday.
In spite of the rainy weather, Universal Beijing Resort was packed with tourists, with long and winding queues at many attractions and restaurants.
Besides, consumption around the Resort was stimulated, with local hotel reservations increasing by 75 percent and the average price increasing from 217 yuan ($33.64) to 507 yuan. In addition, 1,067 new restaurants and 170 new hotels have opened around the Resort within a five-mile radius.
Universal Beijing Resort provides immersive experiences for tourists.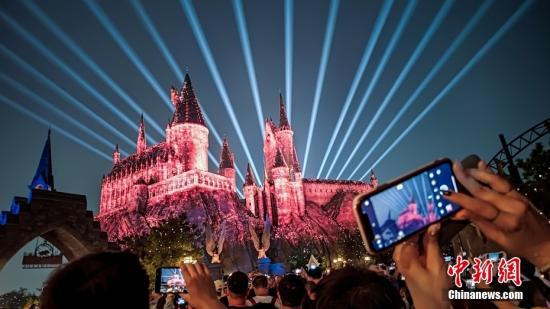 Universal Beijing Resort. (Photo provided by Visual China Group)
"Everywhere resembles a movie scene, so it's perfect to take photos here," a tourist surnamed Wu said.
Based on industry data, revenues generated by international theme parks are divided into three parts: 30 percent from tickets, 30 percent from retail, and 40 percent from hotels and restaurants. However, things are different in China.
According to Lin Huanjie, president of the Institute for Theme Park Studies in China, 70 percent of revenues generated by most Chinese theme parks come from tickets. Accordingly, it's consensus among theme parks in China to stimulate secondary tourist consumption amid the current pandemic.
Beijing could further promote its influence as a world-renowned tourism city to attract more foreign visitors by making Universal Beijing Resort a new "Tipping Point", added Liu.