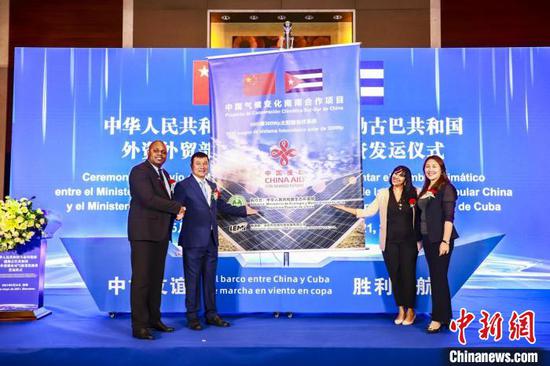 The delivery ceremony of China-aided supplies to Cuba was held Monday in Shenzhen City, Guangdong Province. (Photo/ China News Service)
(ECNS) -- China will provide solar photovoltaic power systems to 5,000 Cuban families living in complex terrain, with a supplies delivery ceremony held Monday in Shenzhen City, Guangdong Province.
Multilateralism and global cooperation are the only choice to cope with climate change, said a Chinese official at the South-South Cooperation on climate change event between China and Cuba.
China has always attached great importance to tackling climate change, implemented national strategies to respond to climate issues, promoted various forms of South-South cooperation in addressing related issues in a practical way and tried its best to assist developing countries to better their performance in dealing with climate change, he added.
Cuba is the first country in Latin America who have established diplomatic relations with China. The two countries have been sharing weal and woe and are like intimate brothers. Deepening cooperation between the two countries on climate change will benefit both peoples, said the official.
This batch of solar photovoltaic power systems from China will greatly improve the life quality of these families and Cuba's ability to cope with climate issues said Denisse Llamos Infante, consul general of Cuba in Guangzhou.
She expressed her gratitude for China's efforts and contributions in dealing with climate change. She hoped China and Cuba would continue to work together in environmental protection and climate change, and to promote further bilateral cooperation in related fields.
Both countries have renewed and signed cooperation papers at the end of 2019 in which China promised to provide solar photovoltaic power systems to 5,000 Cuba households and 25,000 LED lamps to tackle electricity problems for families in remote rural areas and help the country upgrade its ability to deal with climate change.