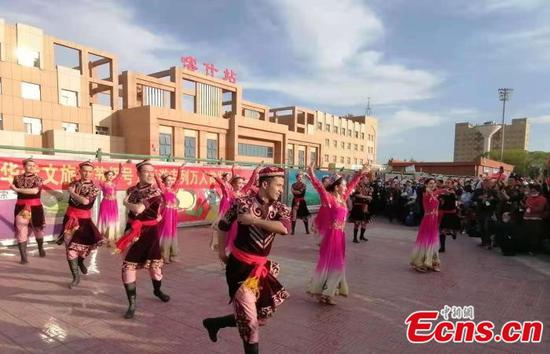 A special tourist train arrives in Kashgar of Xinjiang on April 19, 2021. (Photo/China News Service)
Special: Xinjiang
(ECNS) -- A train carrying 818 tourists arrived in Kashgar, Xinjiang Uygur autonomous region at 8 p.m. on April 19, the first special train for local tourism this year.
Kashgar authorities extended their warm greetings to tourists with song and dance at the Kashgar train station and presented gifts to tourist representatives.
Wu Dajun, deputy general manager of Huayun Culture and Tourism Group, one of the sponsors of the traveling train, said tourists hailed mainly from Jiangsu, Hubei, Hunan and Anhui.
"These tourists expressed their passion for travelling in Xinjiang Uygur Autonomous Region and hoped a total of 45 traveling trains would be launched to the region this year," said Wu.
Tourists made a night tour in Kashgar city, a 5A-level site in China.
A couple from Anhui praised Kashgar for its welcoming atmosphere." Kashgar is one of the must-go traveling destinations in Xinjiang," they said.