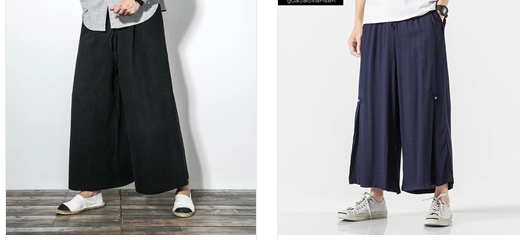 Screenshot of men's skirt-like trousers sales page on Taobao.
(ECNS) - The scorching summer heat in China and Europe has fuelled phenomenal sales of various products that help people cool off such as skirt-like trousers for men and fans offered on China's e-commerce platforms.
Data from Taobao.com showed sales of loose trousers that resemble skirts rose by 92 percent on July 26 over a day earlier.
According to a clothing store on Taobao.com, skirts and short pants are usually must-have summer wear exclusively for women, but it appears this year that pant-skirts for men have become a rising trend because they are good for both sun protection and letting off heat.
As Europe is wrapped in a summer heat wave, customers have increasingly turned to buying made-in-China fans.
Data from Alibaba's cross-border retail service Aliexpress showed sales of Chinses fans doubled in May over April, and increased 283 percent in France alone from May to July compared with the same period last year. Fan sales in France in July were 10 times higher than a year ago.
Starting in June, fans have become the most searched for items on the platform. Customers in France, the Netherlands, Germany and Belgium also made solar, portable and mini fans the most searched for goods on Aliexpress. The average daily views for summer fans from the Netherlands and Germany in June increased 1.3 times compared to May.