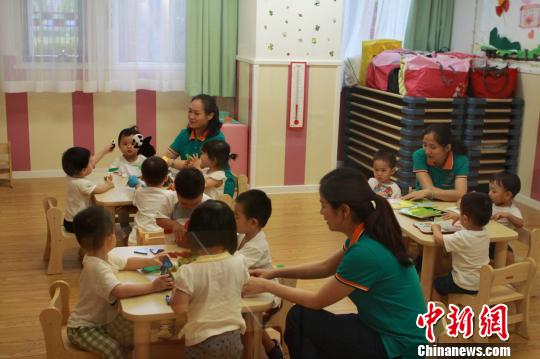 Teachers take care of children at a nursing center in Shanghai. (File photo/ China News Service)
(ECNS) -- The National Health Commission has begun soliciting public opinions on two draft regulations regarding childcare organizations, the Beijing News reported.
The regulations include detailed requirements for the sites, facilities, staff, and employment qualifications of preschool childcare agencies.
The commission also plans to establish a blacklist of service providers that would include companies and individuals found to have abused or injured children, for example.
Parents or guardians of children in nursery care will be required to sign an agreement with caregivers that clearly specifies responsibilities, rights, fees, and dispute settlement procedures.
Children should be vaccinated and have undergone a health checkup by medical authorities before being admitted by such agencies.
In addition, nursery service providers should monitor their services over a 24-hour period and video footage should be kept for no less than 90 days.
Huang Kuang, an associate researcher at the China Population and Development Research Center, said the regulations will fill the gaps in the national standardization of childcare agencies.
In recent years, scandals including cases where a needle was used to stab children and children were slapped while in care have resulted in strong public outcry. The new regulations forbid any acts that impair the physical and mental health of children.