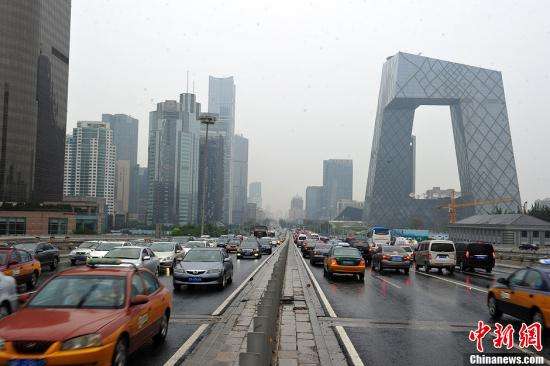 File photo of urban Beijing.
(ECNS) - A study by National Bureau of Statistics has outlined a picture of residents in the capital that shows longer working hours, almost the same commuting time and a dramatic increase in time spent online compared to 10 years ago.
Following a first survey on the use of time in 2008, the second in May 2018 recorded data on respondents over 24 hours to understand their physical and mental health as well as quality of life. The survey canvassed 4,238 people in 1,700 households scross the city, mainly aged at least 15 and permanent residents.
The result showed that daily work hours averaged 8 hours and 34 minutes, an increase of 56 minutes from 2008. The time for commuting from home and office was 1 hour and 29 minutes, exactly the same as the 2008 data due to the ever-growing transportation network.
The working time for three age groups – 15 to 39, 40 to 64 and above 65 – was 10 hours, 8 hours and 5 minutes, and 5 hours and 48 minutes, respectively. The average working time for men was 8 hours and 58 minutes and for women 8 hours and 1 minute, some 57 minutes less.
Men spent one hour and 50 minutes on housework a day, much lower than women's 3 hours and 48 minutes. Only 52.69 percent of men helped in housework while the percentage for women was 82.08 percent, according to the study.
Men spent 16 minutes more time each day on leisure and entertainment than women. Watching TV was still the most popular leisure activity for both men and women, an average of 65 percent.
In the past 10 years, online time has increased significantly, and the mobile Internet has become mainstream. The daily online time of Beijing residents rose from 25 minutes in 2008 to 3 hours and 6 minutes in 2018.