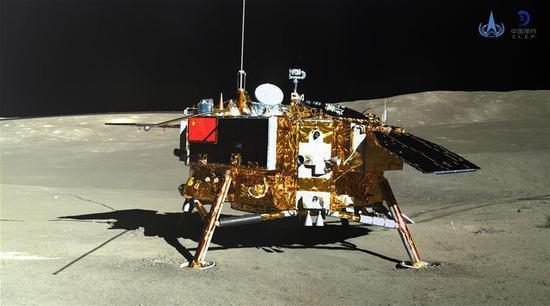 Photo taken by the lander of the Chang'e-4 probe on Jan. 11, 2019 shows the rover Yutu-2 (Jade Rabbit-2). (Photo/China National Space Administration)
(ECNS) -- China will soon launch a mission to land on the Moon's south pole and welcomes international cooperation.
Li Guoping, a spokesman for the China National Space Administration, said China will offer opportunities for cooperation on payloads of up to 10kg both on the orbiter and lander.
China highly values international cooperation and wants to work with global scientists in moon exploration in the Chang'e 4 lunar program.
The administration received 20 applications to place payloads in space in April 2015 and finally decided to carry four, those from Germany, the Netherlands, Sweden and Saudi Arabia, on the Chang'e 4 lander, rover, relay satellite and Longjiang-2 microsatellite.
Li said China's aerospace development always adheres to the principle of open cooperation on the basis of equality, mutual benefit, peaceful use and inclusive development.
To date, the administration has signed bilateral agreements with 39 countries and joined 18 international space organizations.
The administration welcomes the participation of counterparts in China's follow-up lunar and deep space exploration projects, including on joint development, payloads and joint scientific research.