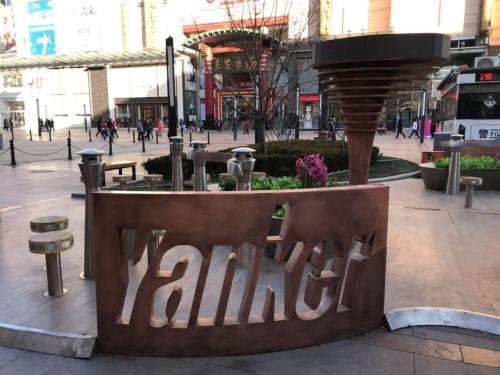 Photo provided by Beijing Tobacco Control Association
(ECNS) - Beijing Tobacco Control Association has called for the closure of an open smoking area recently set up near Wangfujing Street, one of the largest and most well-known shopping streets in Beijing.
The 70-square-meter area has scores of ashtrays and is marked as an area for smoking. Decorated with green plants, it includes about a dozen benches.
Cui Xiaobo, deputy director of the association and also a professor at Capital Medical University, said experts inspected the site and found it is contrary to the city's anti-smoking regulations and spirit.
Cui also said a large part of the site funded by a company looks more like support for smoking.
Wu Yiqun, a researcher with the Chinese Center for Disease Control and Prevention, agreed with Cui, saying for teenagers the large smoking area is more like an advertisement.
The public smoking area is the largest in Beijing and also affects fire-control efforts due to its location on a busy passageway, said Zhang Jianshu, director of the association.
Beijing News reported that the project's investor is a company that promotes what it calls "shared smoking spaces." It plans to establish 2,000 such areas in key transportation hubs in major cities.