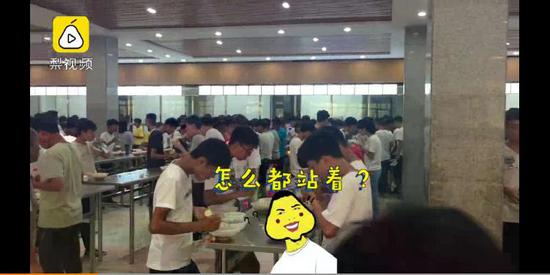 Screenshot of footage shows students standing beside tables in Suixian High School on August 26.
(ECNS) - A high school in Suixian County, Henan Province has garnered attention online for removing chairs from the school canteen to prod students into finishing their food quickly.
The move comes a result of learning from other schools and aims to improve the efficiency of student dining to encourage more time for studies, a staff member at the school office told Pear Video, a video streaming app.
The school had dining tables with linked chairs in the past, but in the new semester starting on Aug. 26 they have been replaced by long tables without seats, forcing students to eat while standing.
Besides, each student will be assigned a designated spot to eat, so generally speaking it would take 10 minutes to finish a meal, said the staff member.
A student surnamed Li said he needed 20 minutes to finish his food before while now he only needed 10.
Gao Shan, director of Gastroenterology at the Central Hospital in Xiangyang City, Hubei Province, said it's better to eat slowly because not chewing enough will affect digestion and cause chronic diseases if continued for a prolonged period.
Suixian High School, founded in 1940, is a key education facility and enjoys a high reputation for sending graduates to top universities in eastern Henan.