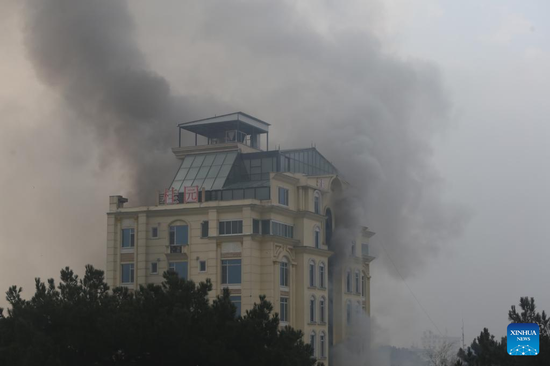 This photo taken on Dec. 12, 2022 shows the site of a blast in Kabul, Afghanistan. (Photo by Popal/Xinhua)
Three attackers on a hotel in Afghan capital Kabul have been killed and the clean-up operation was over, chief spokesman of the Taliban-run caretaker government Zabihullah Mujahid said.
"The clean-up operation on the hotel is over by killing three attackers and rescuing all guests from the hotel," Mujahid said on his twitter account hours after the attack.
"All the foreign guests are safe and only two were injured after jumping from the hotel," he said.
Earlier Kabul police spokesman Khalid Zadran said, "Unknown armed insurgents attacked a hotel in Kabul city on Monday and security personnel began operations to clean up the area."
"Insurgent elements attacked a hotel in Shahr-e-Naw area of Kabul city around 2:30 p.m. local time today but the security forces in sharp reaction reached the area and began clean up operations," Zadran said in a message sent to Xinhua.
However, an eyewitness told local media that he heard two blasts and gunfire from a building.
The police have condoned off the area and didn't allow journalists to get access to the site of the incident.
Another witness said the blast took place near a Chinese guesthouse where a number of Chinese people used to stay.
In the meantime, the Chinese embassy in Afghanistan said it attaches great importance to the incident and is closely monitoring the situation and taking relevant actions.